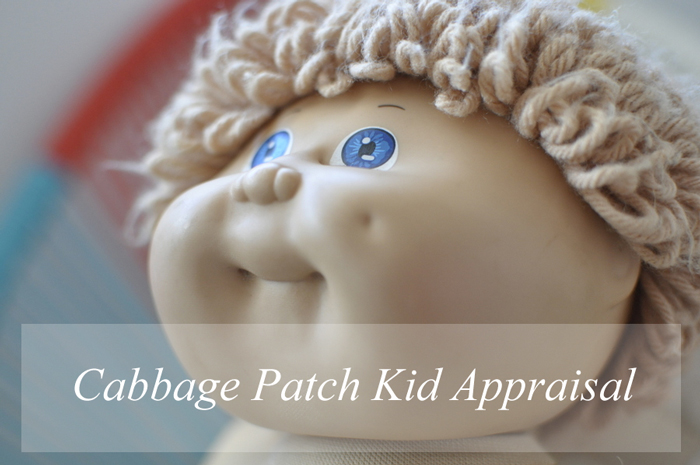 Are you wondering whether or not your Vintage Cabbage Patch Kid could be worth a small fortune? In this article, we will take a look at a number of specialty Cabbage Patch Kids and merchandise sold during the 1980s and 1990s and their current vintage value.
While the Cabbage Patch Dolls were originally handcrafted by a single man by the name of Xavier Roberts, soon after they increased tenfold in popularity he made a small fortune by signing a deal with the Coleco company in 1982 which allowed the company to mass-produce the dolls. Throughout the decade's different companies have taken on the rights to produce these dolls such as Hasbro from 1989 until 1994, Mattel from 1994 until 2001, and Toys R Us from 2001 until 2003. The value of your doll or merchandise can increase or decrease depending on which company manufactured it.
Coleco had sold more than 3 million dolls by the end of 1983. By 1990, 65 million Cabbage Patch Kids had found their 'forever home'. This shows just how popular these soft-bodied dolls were only a few years after being introduced.
---
What are the Most Valuable Cabbage Patch Kids?
The most valuable Cabbage Patch Kids unbeknownst to many new collectors do not even fall under the Cabbage Patch Kid brand name. The original CPK produced by Xavier Robert's himself, known as Little People Originals made prior to 1982 are among the most valuable dolls. Some of the Little People Originals that are still in mint condition can sell for as much as 100 times their original retail value.
Cabbage Patch Dolls
---
Mass Market Cabbage Patch Kids
The original Cabbage Patch Kids retailed for $30.00 during the 80's. These same dolls now fetch their owners generally more than triple their original price with some seeing their worth increase five to tenfold.
The first mass-market Cabbage Patch Kids were introduced in 1983, and lines of mothers and fathers filled shop fronts as everyone tried to get their hands on a doll for their children in time for Christmas
When speaking about mass-market Cabbage Patch Kids, those worth the most to collectors are twins, 'made in Japan' editions, black-skinned kids with freckles, kids with fuzzy hair, kids with strawberry blonde or red hair and those sold with their original clothes, birth certificate, and box.
There is no one specific value for any Cabbage Patch Kid. While the mass market kids will have other identical dolls around the globe, there were many variations produced especially during 1982 in time for Christmas. Below you can find some images of Cabbage Patch Kids, their date of manufacture, and the price they fetched at auction.
| | | |
| --- | --- | --- |
| Image of CPK | Date of Manufacture | Price Fetched at Auction |
| | Coleco – 1985 | $55.00 USD |
| | Coleco – 1984 | $125.00 USD |
| | Coleco – 1984 | $100.00 USD |
| | Hasbro – 1990s | $30.00 USD |
To read about Cabbage Patch Kids that are worth a small fortune, please see our related article here.
---
Talking Cabbage Patch Kids
The talking Cabbage Patch Kids were first introduced by the Coleco company during 1987
This was the first Cabbage Patch Kid that made noise
The doll could communicate with other Talking Cabbage Patch Kids with random phrases, but would also speak when certain body parts such as the hand were touched
While these dolls were loved by many, due to their hefty original retail price of over $100.00 and the fact that multiple needed to be purchased to take advantage of all the vocalisation of the doll, they fell short of expectations the company had
A talking Cabbage Patch Doll produced in 1987 is often resold for anywhere between $60.00 and $300.00 USD.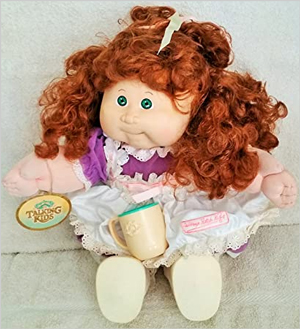 ---
Sippin Cabbage Patch Kids
During 1989 the 'Sippin' Cabbage Patch Kids were released which brought a new spin on the original dolls. These new dolls could really 'sip' from their drink.
These dolls today generally sell within the vintage market for more than $70.00 USD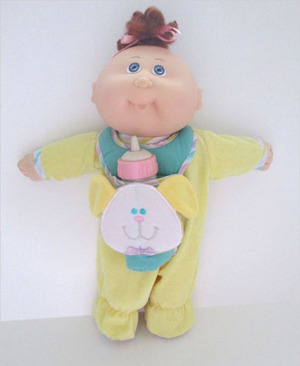 ---
Snack Time Cabbage Patch Kids
If you remember the year 1996, there is a chance you will remember the Snack Time Cabbage Patch Kid
The Snack Time Cabbage Patch Kid was able to 'swallow' plastic food that would travel through metal rollers within the doll and could be retrieved through the backpack.
The Snack Time Cabbage Patch Kid was retrieved from shelves soon after it was released due to concerns about children getting their fingers stuck within the dolls mouth and metal rollers.
These dolls are extremely rare due to them being recalled shortly after their release and therefore owners of these dolls often place hefty price tags on them of over $200.00 USD.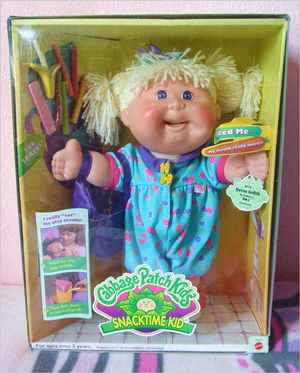 ---
Cabbage Patch Branded Products
---
Cabbage Patch Kids Cereal
Believe it or not, but during 1985, a box of breakfast cereal was available in supermarkets that were Cabbage Patch branded. The cereal was low in sugar, primarily consisting of rice flour. The cereal was shaped into little round faces, that looked similar to the three-dimensional dolls. If you've kept the box from the original cereal all these years, some have been able to sell it for as much as $50.00 USD.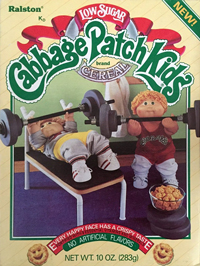 ---
Cabbage Patch Kids US Postage Stamp
That's right, the Cabbage Patch Kids made it onto their very own US stamp. The stamp was worth 33 cents at the time of release during the year 2000 which commemorated the 1980s. While the stamp is far from making an owner a fortune, with them mostly for sale in vintage markets for no more than $5.00 USD, they are a great item for a CPK collector to display.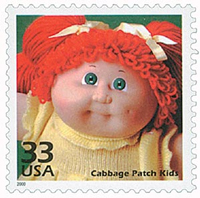 ---
Cabbage Patch Kids Vintage Items
Below you can find a list of just a handful of the different items produced under the 'Cabbage Patch Kid' label. While many think that this brand is only related to the dolls we know and love, it went much further than this producing everything from doll accessories to edible cereal. Below you can find a number of the accessories produced alongside the Cabbage Patch Kids:
Cabbage Patch Kid Dolls
Pram (1980s)
Diapers (1980s)
Outfits
Hair Brush (1980s)
Sticker Baby Book (1983)
Coleco Coat Hangers (1980s)
Rocker (1983)
Stroller
Side by Side Stroller
Car Seat
Play Pen
Feeding Set
Sleeping Bag
Diaper Bag
Washing Machine
Closet
Lunch Box and Thermos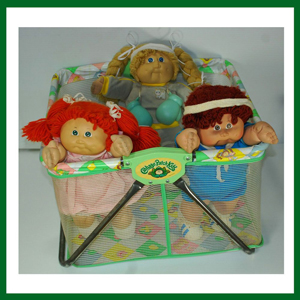 ---
Have you recently sold your 1980s or 1990s Cabbage Patch Kid or CPK Merchandise? We'd love to hear about it in the comments section below!