If you grew up in the 80's or the 90's or even the early 2000's, chances are you or your sibling loved and cherished a Cabbage Patch Kid. You wouldn't have been the only kid in your street to be loving your doll though, as these dolls similar to Barbie's became a global sensation with many keen collectors still holding onto their original dolls 40 years later.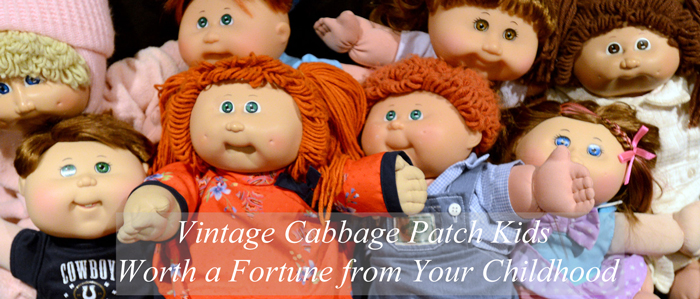 ---
What is a Cabbage Patch Kid?
For those of you who did not grow up in the time of Cabbage Patch Kids, you may have not even heard of them prior to stumbling upon this article. While dolls such as Barbies are recognized globally, what saw the Cabbage Patch Kid stand out against other dolls was their cuddly nature. While the Baby Alive Doll produced around the same time had many interactive features, the simplicity of the Cabbage Patch Kids (CPK) was what little girls during this period were seeking.
The Cabbage Patch Kid is by no means the most valuable collector's doll to date, although it was their cuddly and soft nature that set them apart from other big brand dolls during their initial production. The original dolls had woolen hair, plush bodies, and somewhat chubby fingers. Xavier Robert's who was the designer and craftsman of these dolls stitched them in a similar way to how his mother would make quilts.
While the Cabbage Patch Kid may sound like 'just another doll', what added to their popularity was the fact that each doll came with their own adoption papers, the dolls were soft, meaning they could be taken to bed just like a fluffy animal and they were somewhat ugly but in a cute way. The legend (story) behind how the dolls had came to be also made it feel as though the adoption process was real for many little girls who had been gifted a Cabbage Patch Kid. In the earlier years of production, the company also stated that no two dolls were identical. This meant every child in the street had their own unique doll.
Recognizing a Cabbage Patch Kid
While the dolls have been around for many decades, they still sport the same look. Cabbage Patch Dolls can be distinguished by their:
Wool or Yarn Hair (depending on when it was produced)
Cubby Face, Arms, and Legs
Soft Cloth Bodies
Vinyl Faces (unless produced in the very early years)
Measure Approximately 16 Inches Tall
In some limited edition makes of the Cabbage Patch Doll, porcelain or an all-vinyl body can be noted.
---
The History of the Cabbage Patch Doll
The very first Cabbage Patch Dolls were released in 1983. The official Cabbage Patch Dolls came many years after Xavier Robert's original designs which he handcrafted and titled 'Little People Originals'. While Xavier's first creations were popular, the introduction of 'Cabbage Patch Dolls' saw 3 million of the dolls being adopted by the end of their first year of production. During late 1983, the doll even makes the front cover of Newsweek due to their popularity amongst young girls and boys alike. While there have been thousands upon thousands of different Cabbage Patch Kids produced over the past 40 odd years, the dolls that represent a person or special event such as the US Olympic Team Mascot Dolls remain among the most valuable. Each of the dolls tells it's own story and even comes with a birth certificate.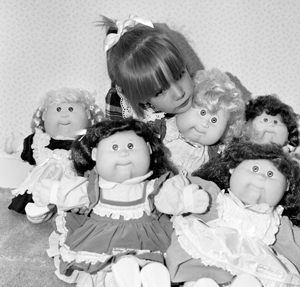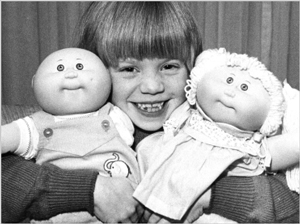 By 1999, 95 million Cabbage Patch Dolls had been sold around the globe. The amount of these dolls that exist globally significantly reduces their overall collectible value.
While the Coleco company produced the dolls between their primitive years, 1982 until 1988, the craze of the Cabbage Patch began to decline and in 1994, many years after Coleco filed for bankruptcy, Mattel began producing Cabbage Patch Kids. Mattel mimicked the original dolls in their re-release of Cabbage Patch Kids. Many mothers and fathers who had fond memories of these dolls during their childhood purchased one for their own children.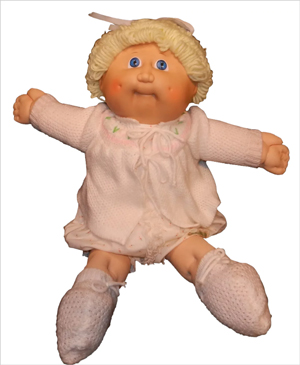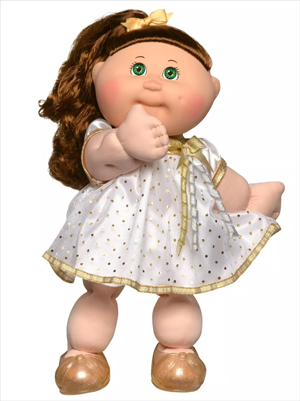 ---
The First Cabbage Patch Doll
Cabbage Patch creator Xavier Roberts copyrighted his design in 1976 and sold the rights to company Giant Coleco in 1982. Dolls that were made prior to the Coleco handover are worth the most.
When speaking about the first Cabbage Patch Doll, many refer to the very first dolls produced by Xavier Robert's which he originally titled 'Little People Originals' (1976-1981). The Little People Originals were all hand-crafted by Xavier himself and were signed in permanent marker on their bottoms. As Xavier saw the popularity of his 'Little People Originals' grow, he opened 'Babyland General', which became the home of the cuddly dolls. He invited the public to come to 'Babyland General' where children could adopt out their very own 'Little People Original' doll. Similar to his later works of art, 'The Cabbage Patch Dolls', the 'Little People' came with adoption papers. While the original 'Little People' by Xavier were handcrafted, later in 1982 Coleco purchased the rights to start producing very similar dolls under the name 'Cabbage Patch Kids'. While the 'Little People Original' are much rarer than the 'Cabbage Patch Kids', both of these dolls produced in the early years are highly sought after and can see their owners being handed quite a sum of cash.
During the 1980's, a Cabbage Patch Kid sold for $30.00 USD.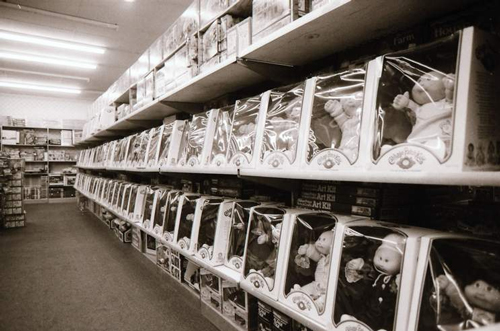 The Cabbage Patch Dolls were not only an instant hit during the 1980's but could also be described as a 'fad' within this decade. Every second little girl was asking Santa Claus for one in 1983, even so much so that the shopping centers who sold these were crowded with moms trying to get their hands on one in time for Christmas before they sold out.
| | | |
| --- | --- | --- |
| Feature | Little People Doll | Cabbage Patch Kids Doll |
| Signature of Authenticity | Hand Signed (1976-1980) or Stamped (1981-1984) | Signed with a Stamp on their Bottom |
| Head of Doll | Completely Soft | Vinyl Head with Soft Body |
| Production | Hand-Crafted by Xavier Roberts | Crafted by the Coleco Company |
| Packaging | No original box, they were handed directly to the new adoptive mom or dad. | Came in a cupboard box with a plastic, see-through front. |
---
Determining the Age of Your Cabbage Patch Kid
Unlike some of the other big brand toys produced during the 80s and the 90s, Cabbage Patch Kids were often well marked with their year of manufacture.
Xavier Robert's, the founder of the dolls and a craftsman himself, in the early years of the company would use a different color to sign his name. For example, during 1983 a true Cabbage Patch Kid or Little People will have a black signature, green was used in 1984, blue was used in 1985, red was used in 1986, aqua was used in 1987, lavender was used in 1988 and rose was used in 1989. If you have one of the earlier produced dolls, or you are looking to purchase one as a vintage collectible, ensure that the signature color matches up with the proposed manufacture date.
When the Coleco company sold the Cabbage Patch Dolls, the boxes were often marked with the year of manufacture. While the style of the boxes changed over the years, the date was often front and foremost. The Coleco 1983 boxes do not sport a banner while those produced in the years following do.
The original Cabbage Patch Kids stood between 16 and 18 inches tall while the Preemies measured between 14 and 15 inches. The Coleco produced a number of specialty lines of the dolls during their peak time and it is these limited edition style CPK's that often fetch the highest prices at auction. During 1985, Coleco produced special edition kids such as twins, world travelers, and western kids and later in 1986 specialty kids such as the astronauts and all-stars were released. Following this, in 1987, Coleco released a Cabbage Patch Kid designed to be able to be bathed and another kid that could talk.
---
What Makes a Cabbage Patch Kid Valuable?
Some of the dolls are more sought after including those with red fuzzy hair known as 'Red Fuzzies' and those dolls without any hair known as 'Baldies'. While many of the Cabbage Patch Dolls can see their owner making back their money or making a small amount of money, those handcrafted by Xavier himself prior to 1982 see the biggest return.
Birth Certificate – Dolls with original birth certificates can be worth upwards of $40.00 USD more than those without.
Original Boxes – While the 'Little People' collection did not come with boxes, those produced under the 'Cabbage Patch Kid' brand did.
The condition of the doll, the rarity, the skin and hair color, whether or not the original accessories are included as well as the birth certificate and box all determine how much someone may be willing to pay come auction.
---
Valuable Cabbage Patch Kids from Your Childhood
For most of the Cabbage Patch Kids, no two are the exact same. Whether they have different eye colors or hair colors, it was their uniqueness along with their adaptability that made the world fall in love with them time and time again. While in more recent years, you can find identical Cabbage Patch Dolls, in their earlier years, especially when they were handcrafted by Xavier himself, the dolls were each their own little people. This means that each doll does not have a set collectible value and the price of each really depends on supply and demand. There are a number of things that can make one doll more valuable than another and we mention those in the section above.
Cabbage Patch Kids that are deemed as 'vintage' being produced prior to 1990, are far more valuable than those produced in more recent years.
Little People Dolls that are Worth a Small Fortune
Barry Fritz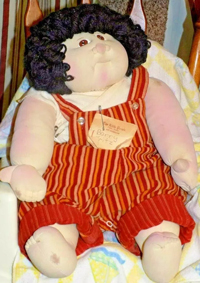 | | |
| --- | --- |
| Collectible Doll's Auction Price | $1544.00 USD |
| Year of Manufacture | 1979 |
| Description | This doll was produced prior to the Cabbage Patch Kid's company began. Designed and crafted by Xavier Robert's himself, and hand signed, this doll fetched a high price at auction even with clothes that were queried whether they were originals or not. |
---
Adam Gregory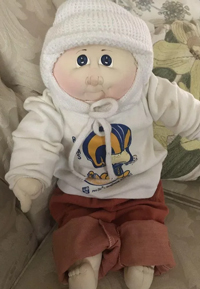 | | |
| --- | --- |
| Collectible Doll's Auction Price | $600.00 USD |
| Year of Manufacture | 1979 |
| Description | This original 'Little People' doll named 'Adam Gregory' was auctioned for $600.00. This particular doll was sold with the original diaper, clothing, and paperwork. |
Cabbage Patch Dolls that are Worth a Small Fortune
Teresa Ann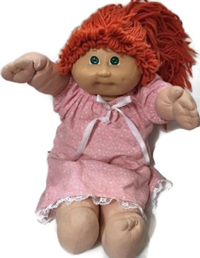 | | |
| --- | --- |
| Collectible Doll's Auction Price | $2000.00 USD |
| Year of Manufacture | 1985 |
| Manufacturer | Coleco |
| Description | This red-haired, green-eyed Cabbage Patch doll fetched an unexpectedly high price when she was listed on eBay. She was sold dressed in an original pink outfit. |
---
James Dudley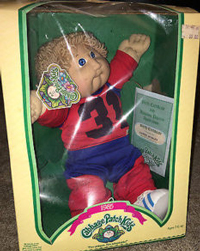 | | |
| --- | --- |
| Collectible Doll's Auction Price | $3000.00 USD |
| Year of Manufacture | 1985 |
| Manufacturer | Coleco |
| Description | While many Cabbage Patch Kids are worth no more than a couple of hundred dollars, this particular CPK remains intact in his original box hence the high auction price. |
---
Ann Greta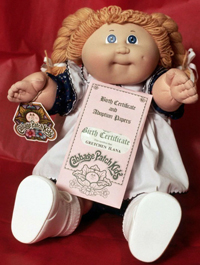 | | |
| --- | --- |
| Collectible Doll's Auction Price | $810.00 USD |
| Year of Manufacture | 1986 |
| Manufacturer | Coleco |
| Description | Ann Greta featured popcorn red hair and dreamy blue eyes. She was auctioned with her original birth certificate and pacifier for $810.00 during early 2019. |
Cabbage Patch Anniversary Dolls
10th Anniversary Cabbage Patch Kid (Zora Mae)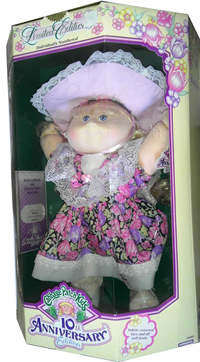 | | |
| --- | --- |
| Collectible Doll's Auction Price | This anniversary doll currently auctions for $30.00 to $100.00 USD |
| Year of Manufacture | 1992 |
| Manufacturer | Hasbro |
| Description | This particular Cabbage Patch Kid was released to commemorate the 10th anniversary of the dolls. Titled Zora Mae, this doll had blonde curly hair and wore a pink outfit and matching bonnet. |
---
15th Anniversary Cabbage Patch Kid (Number of Dolls and Names)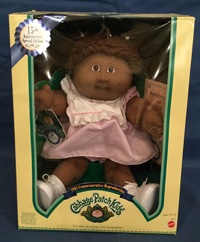 | | |
| --- | --- |
| Collectible Doll's Auction Price | The 15th-anniversary dolls can auction for anywhere between $100.00 – $200.00 USD. |
| Year of Manufacture | 1998 |
| Manufacturer | Mattel |
| Description | To commemorate 15 years of the Cabbage Patch Dolls, a number of different and new dolls were released. Each wore differing colored checked tunics. On each of their boxes, it also read '15th Anniversary Special Edition'. |
---
20th Anniversary Cabbage Patch Kid (Number of Different Versions)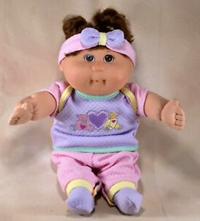 | | |
| --- | --- |
| Collectible Doll's Auction Price | These dolls can be sold for up to $100.00 USD. |
| Year of Manufacture | 2003 |
| Manufacturer | Toys R Us |
| Description | Sold exclusively by Toys R Us were the 20th Anniversary Cabbage Patch Kids. There were a number of different styled dolls although they all appear to wear the same teddy bear pajama set. |
---
25th Anniversary Cabbage Patch Kid (Many Different Styles)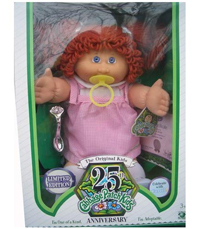 | | |
| --- | --- |
| Collectible Doll's Auction Price | The 25th Anniversary Cabbage Patch Kids can sell for anywhere between $30.00 – $200.00 USD. |
| Year of Manufacture | 2008 |
| Manufacturer | Play Along |
| Description | Coming in many different designs, the 25th-anniversary Cabbage Patch Kids all came in a green outlined box that states 25th anniversary. Each of these dolls came with a silver spoon. |
---
30th Anniversary Cabbage Patch Kid (Number of Designs)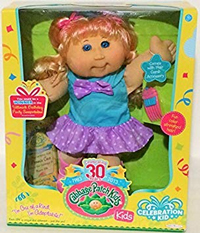 | | |
| --- | --- |
| Collectible Doll's Auction Price | $40.00 USD |
| Year of Manufacture | 2013 |
| Manufacturer | Target |
| Description | The 30th-anniversary Cabbage Patch Kids are all bright and bubbly dolls. These dolls were Target exclusives. |