While the days of young boys and girls collecting comic books may be vastly over, some years ago, purchasing your favorite comic from the corner store would have been the highlight of your week. While it is hard to say when the very first 'Comic Book' came to life, we do know that the popularity of these paper books grew immensely after the release of Superman in 1938. Even today, the character Superman is known and adored by youngsters, with their dreams to become as strong, or powerful, or courageous as he.
After World War II, the popularity of comic books grew further, more than likely due to the inspirational stories where good overruled evil during a time period where life looked grim for many. The superhero comics are what come to mind for many although let's not forget other great comics released during the 1900's such as the Walt Disney comics that featured the very well-known and loved Mickey Mouse and Donald Duck.
The first comic books were dull, only printed in black and white. As time and technology progressed so did the inks and colorful comic books began popping up on shelves. Now in a time period where printed comics are becoming scarce with many turning to technology for their books and of course comics, some of the paper comics sold during the early 1900s are seeing their price tags rise if they've been kept in pristine condition for all these years.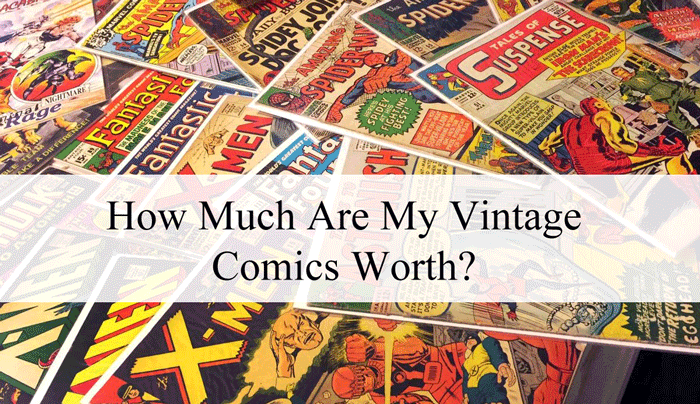 ---
Popular Comic Book Franchises
Some of the popular comic book franchises include Spider-Man, Superman, X-Men, Batman, Green Lantern, and The Incredible Hulk. But there is so much more to comic book collecting. Let's take a deeper dive and explore the value and worth of a range of vintage comic books.
---
The History of Comic books
Comic books have been published for more than a century, and collectors categorize them into five 'Ages':
Platinum (1897-1937), Golden (1938-55), Silver (1956-69), Bronze (1970-79), and Modern (1980-present).
"The Platinum Age"
This is where it all began. One of the first newspaper comic strips, which came before comic books, was Hogan's Alley. It was published in 1895 by Richard Felton Outcalt and debuted what we now know as 'speech bubbles'.
Richard Felton Outcault was an American cartoonist. He was the creator of the series The Yellow Kid and Buster Brown. He was considered a key pioneer of the modern comic strip.
The Yellow Kid In McFadden's Flats
The lead character, The Yellow Kid, had his own book, "The Yellow Kid in McFadden's Flats." It was printed in 1897 and was when the term 'comic book' began. It also marks the beginning of the Platinum Age, which ran until 1937.
Subsequent newspaper comic strips such as Mutt and Jeff were reprinted in the form of books. After this publishers began experimenting with weekly comic books. The weekly comic books would sell for 10 cents at newsstands. This was prior to superhero coming and was mostly made up of tales of detectives, criminals, travel, and adventure.
The Phantom
The first costumed hero was The Phantom, who debuted in 1936, and wore a purple costume and black mask. This one is listed for $79.20 on eBay.
"The Golden Age"
The Golden Age began in 1937 when comic books previously aimed at adults, were now focused on kids.
Action Comics
In 1938, a brand new series, Action Comics, was published by DC. Action comics introduced the world to Superman, the first comic book character with superhuman abilities.
This restore #38 is selling for $500 on eBay.
Batman followed a year later, in Detective Comics #27 and Superman got his own comic book in 1939. This created the new format we have come to know in comic books today.
This Batman with the introduction of Robin is listed at $4500.00 on eBay.
The Golden Age lasted until 1955 with other characters being introduced. They included: Captain Marvel, The Green Lantern, The Flash, Captain America, and Wonder Woman.
"The Silver Age"
The Silver Age brought us The Flash and Marvel artists such as Stan Lee, Jack Kirby, and others created some of the best comics, including superhero teams like Fantastic Four, the Avengers, and the X-Men.
Spider-Man first appeared in 1962 to great success, among some of the lesser-known characters such as Aquaman, Martian Manhunter, and Dr. Doom.
This Spider-Man is listed at $1657.00 on eBay.
"The Bronze Age"
The Bronze Age (1970-1979) introduced us to the Falcon and comics got more realistic. Green Lantern and Green Arrow teamed up to take on real issues such as urban crime and drug abuse.
This issue is selling for a cool $43,999 on eBay!
"The Modern Age"
The Modern Age would include any comic book from 1980 to the present. While these are less desirable to comic book collectors, they are still nice to have in a collection.
---
How Much Are My Comics Worth? – Determining the Value of a Vintage Comic Book
As with most collectibles, rarity, title, issue, and condition would normally determine value, however, one or more of those may interest a particular character regardless of condition. While some of the older comics are valuable, amongst the most sought after are the action/superhero comics by DC. The popularity of these comics is more than likely due to many of the character's appearances in movies and television shows giving today's society additional exposure to the original comic book characters.
While comic books were sold for a mere 10 cents up until 1961 when they increased to 12 cents each, it is hard to fathom what the right buyer would pay in today's society for an original comic book.
To determine the value of the comic book you possess, you can attempt to grade it yourself or employ someone to do so. When grading the condition of your comic, you will be looking and feeling to see if it has any marks, tears, pages missing or incomplete, soiling, or marks. All these things decrease the overall value of the vintage comic book.
When trying to determine the value of your comic book, it is important to identify when the comic book was released. Complete some research online using the title name of the comic book you have, and generally, you will find the release date as the majority of comic books have been recorded in some way or another. If you find that the comic you have on hand is not currently in demand, there may be no hurt in holding the comic for years to come to see if it increases in value as trends change, and new remakes of original movies and series are released.
What is the Rarest and Most Expensive Comic Book?
Rarest Vintage Comic Book
The 'New Adventure Comics #26' wins first place for the 'Rarest Comic Book'.
According to the CGC database, there are only 9 registered copies of New Adventure Comics #26, making it the rarest comic book in the world. New Adventure Comics #26 was first published in 1938, during the early days of DC Comics. This comic book originally retailed for 10 cents, but with no surprise due to its rarity, an auction during 2011 saw one of the nine copies sell for close to $8000.00 USD.
Most Expensive Vintage Comic Book
When speaking of the most expensive comic book, recent auctions have seen the prices of many early superhero comic books sell for breathtaking prices. The Action Comics #1 edition would make any owner rich enough to quit their day job.
This comic published in 1938 was the first time we were introduced to Superman. In 2021, Action Comics #1 in well-kept condition, more than likely the best kept of its kind in existence, broke records when it sold at auction for $3.2 Million USD. While there were thousands of these comic books produced during its time, it is estimated that only 100 copies are still in existence.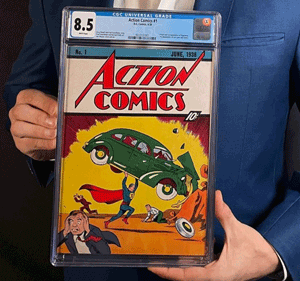 If you're now searching your grandma's house in hopes of finding an old comic hidden amongst other dusty books, you'll also want to keep your eye out for any of the following comic books. These too could see you pocketing a fortune:
Detective Comics #27 – This 1939 comic book was our first glimpse at the superhero by the name 'Batman'. It is likely that less than 200 of this comic book are still in existance. This makes them rare and in turn desirable. This comic sold during 2020 for $1.5 million USD.
Marvel Comics #1 – This comic book can sell for up to $1.2 million USD due to its rarity with only about 26 copies left in the world. It was released during 1939 and was the first time we were introduced to Sub-Mariner and the Human Torch.
Amazing Fantasy #15 – No suprise that this comic book is so popular due to the fact it is the first time we are introduced to the much loved 'Spiderman' superhero. When it was released it was in demand from those of all ages and while there were many copies sold during the 1960s, even still, a pristine copy fetched $1.1 million USD at auction.
---
If you enjoyed this post, 'How Much Are My Comics Worth?' be sure to check out our related posts below!