In this post, Vintage Tonka Trucks with Price Guide, we'll go over the history of the very interesting history and evolution of the Tonka Toy company. You'll find price guide references, some of the most unique items up for sale right now on eBay and information about the different sizes that were made over the years.
The history of the Tonka truck
Tonka was the brainchild of Lynn Everett Baker, Avery F. Crounse and Alvin F. Tesch in 1946, but it didn't start out as Tonka … and they didn't start out making toy trucks. Mound Metalcraft was founded in 1946 and were manufacturing tie racks of all things.
Why is it called Tonka?
Tesch played around with some old toy concepts left by their building's previous tenants, and gave the toys the name "Tanka," which means "big" in Dakota Sioux. The name Tonka itself comes from Lake Minnetonka, Minnesota!
The metal tie racks were not a hit – but the toy trucks were and in 1955, the company officially changed its name to Tonka Toys Incorporated.
Are old Tonka trucks worth anything?
According to an article in the Chicago Tribune, the trucks sell for as much as $1,000 or more. Mint-condition boxes enhance the value of a truck by 20 to 50 percent. Most Tonka trucks in good condition from the late '40s through the early '60s can be purchased for between $100 and $300.
What scale are Tonka trucks?
1:18 Scale
What was the first Tonka truck produced?
According to Time.com, Tonka released its first pickup truck in 1955, followed by a Jeep in 1962 and the Mighty Dump Truck in 1965 — the latter becoming the company's best-selling toy of the century.
List of all Tonka toys with their values
Price values are constantly in flux. We found this resource that lists all of the Tonka toys made including the year and estimated current value. It's definitely worth a look and a great reference guide.
At the time of this writing, here are the top Tonka bids on eBay right now!
Tonka AAA Wrecker Tow Truck 1956 USA **RARE** Excellent All Original – $2,000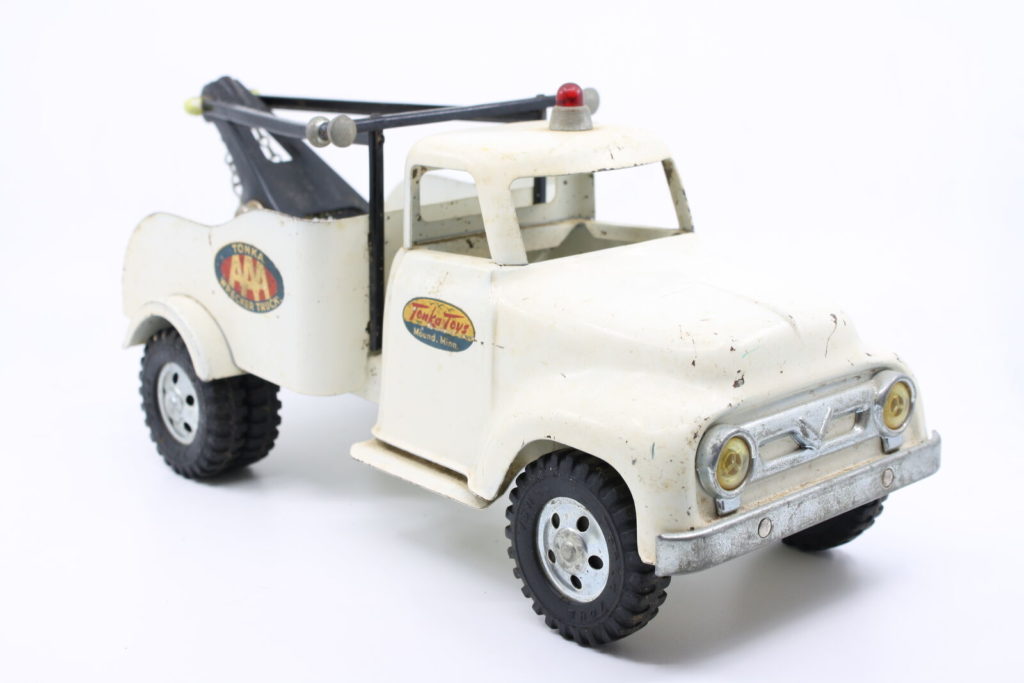 TONKA NEW ZEALAND BIG MIKE DUMP TRUCK HI-WAY DEPT BEYOND RARE – $2,500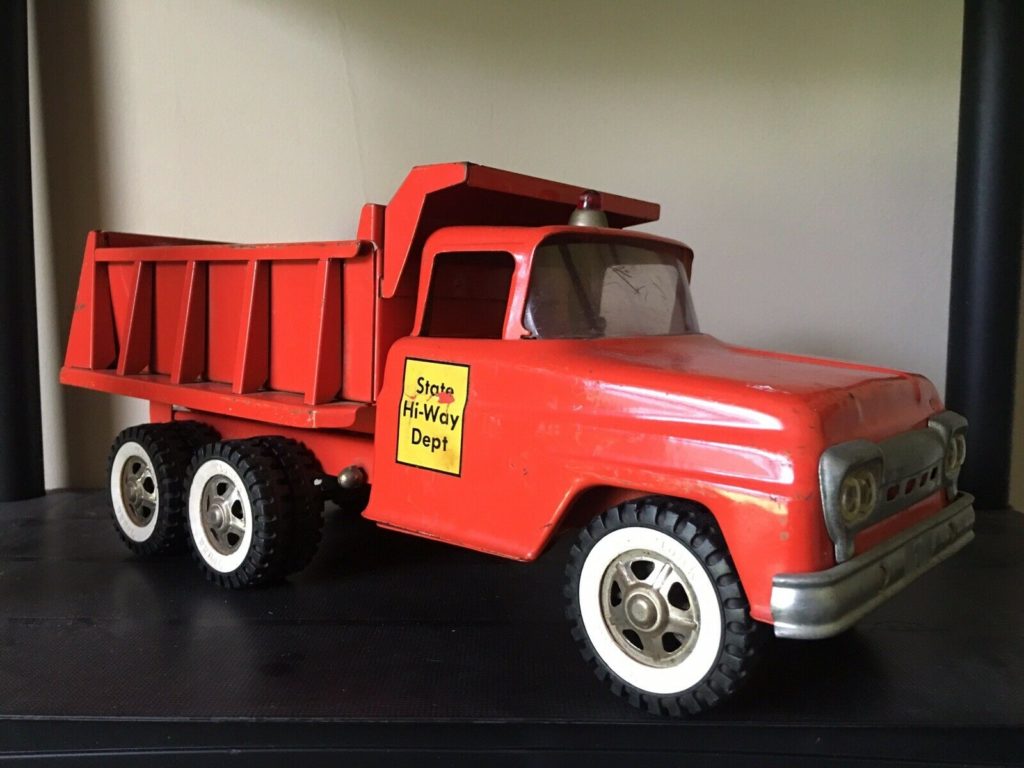 1957 Custom Tonka Farms Low Boy and Dozer – $900

Mini Tonkas vs Mighty Tonkas
In addition to its dump trucks, livestock vans, wreckers, haulers, and fire trucks were produced. Some of these toys were smaller than Tonka's regular line, so they were called Mini Tonkas, while the Mighty Tonka series, which began in 1964, debuted with the Mighty Tonka Dump. It weighed a whopping 11 pounds!
According to Collector's Weekly, the 1960's would bring farm, commercial, and construction trucks and equipment that continued to be Tonka's best sellers, but the company also made pressed-steel pickup trucks (with or without campers), Jeeps (the candy-striped surrey on the 1962 Jeep is a classic), and cars.
By 1966, red, yellow, blue, and green Volkswagen Beetles had joined the Mini Tonka line. There were also plastic "accessory" toys in the shapes of Corvette "Sting Rays," a Ford Ranchero, and a scattering of black or white horses and cows.
By the 1970s, more lines would be added, from Tiny Tonkas in the style of hot-rods to plastic Tonka Toddlers and Gigglers, which were aimed at a much younger audience than the steel dump trucks that had made the company famous.
Rarest Tonka trucks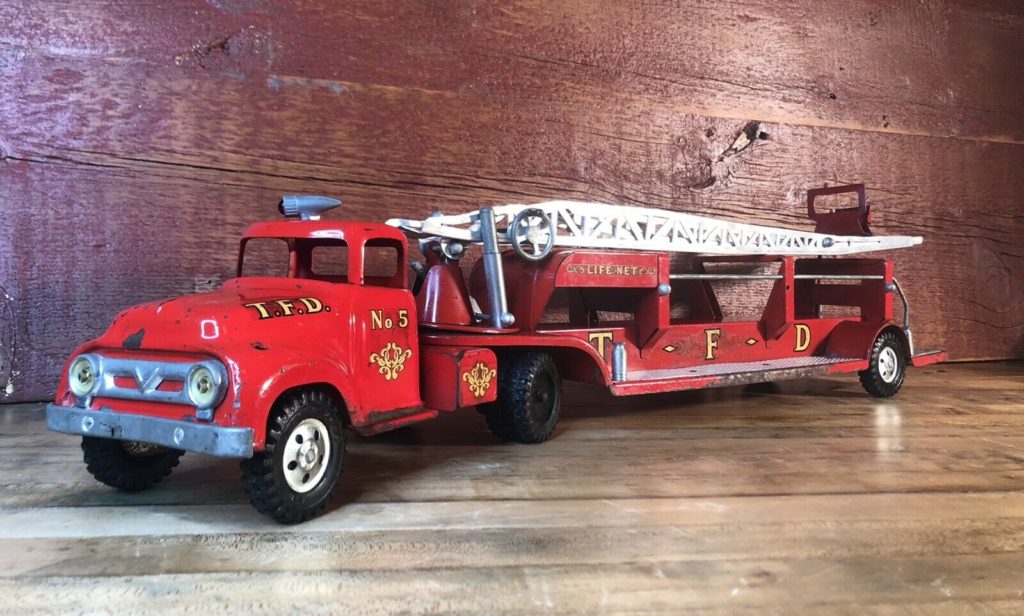 A vintage version of this 1956 aerial ladder fire truck in pristine condition, sold for $1,000 (£737) on eBay in December 2017.
Where to buy Tonka toys
eBay, etsy, online retailers, garage and yard sales…they are definitely out there!
Tonka today
Since 1991, the company has operated as a division of Hasbro, Inc., the largest toy company in the United States. Though its famed trucks are still its best known product, Tonka also produces dolls and soft toys for girls, as well as various games, toy guns, balls, tools, and other assorted toys.