In this post we'll explore How to Identify and Value Vintage Milk Glass, it's history and a look at some of the many collectible shapes available.
What is Milk Glass?
Milk glass is an opaque or translucent, milk white or colored glass that can be blown or pressed into a wide variety of shapes. Made into decorative dinnerware, lamps, vases, and costume jewelry, milk glass was very popular back in the Victorian era.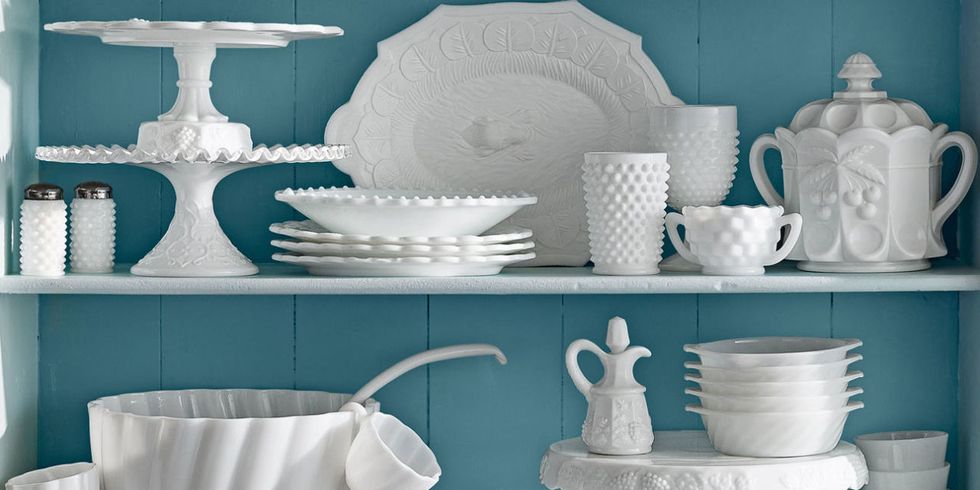 The History of Milk Glass
Most of the milk glass collectors locate today was made popular during the Victorian era because it offered an economical alternative to fine china and porcelain. However, that popularity decreased during the 1930's as colored Depression glass and Carnival glass came into play. Milk glass had a resurgence in the 1950's and 1960's.
Manufacturers of Milk Glass
Atterbury & Company, famous for making milk glass pieces like this Circa 1902 "Atterbury & Co, Pittsburg, Duck on Reeds Base Lidded Candy Dish," was one of several manufacturing milk glass. This piece in mint condition was listed at $1,500.00 USD at the time of writing this post.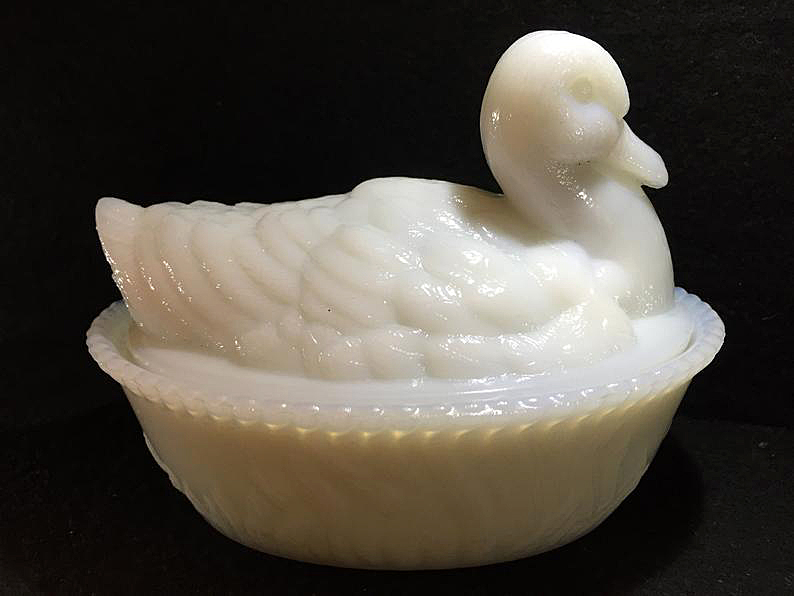 Others in the business of milk glass production included:
Dithridge & Company
Fenton Glass Company
Fostoria Glass Company
Imperial Glass Company
Kanawha Glass Co.
L.E. Smith Glass Company
Mosser Glass
Thai Soojung Glass Company Limited
Westmoreland Glass Company
The Colors of Milk Glass
Most milk glass is a classic, pure white. But did you know that it came in other colors as well? First made in Venice in the 16th century, colors include blue, pink, yellow, brown, black, and the most popular being of course…milk glass white. As long as these shades are opaque and made during the milk glass era, they are still considered milk glass.
Popular Milk Glass Shapes
Milk Glass Vases
In the 1950s and 1960s, milk glass vessels were florists' go-to. This small bud vase can be found for as little as $5-$10 USD.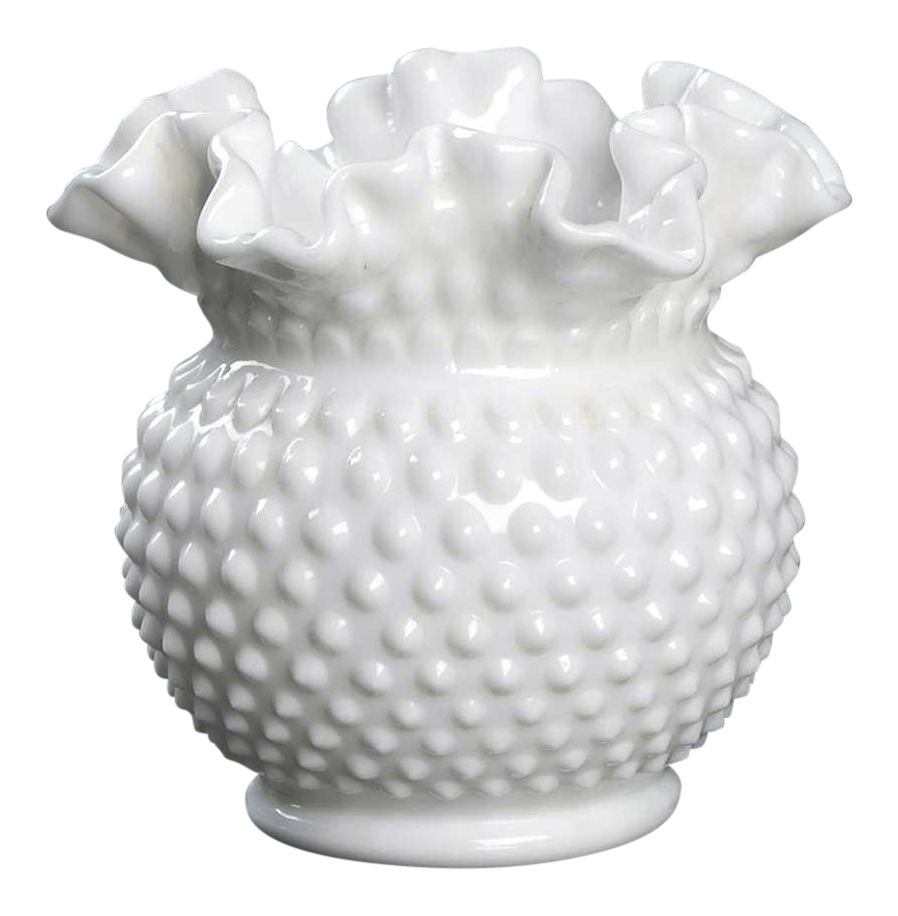 Milk Glass Banana Stands
Victorians loved having a dish for everything and bananas were no exception. Be on the lookout because a banana stand from the early 1900s could fetch up to $100 or more.
Milk Glass Pitchers
Decorative pitchers can range from $40 to $125 USD today.
Milk Glass Cake Stands
Cake stands are highly collectible and can range upwards of $100 USD or more on today's market.
Milk Glass Punch Bowl
A party staple of the 1960s, but not so much today, these punch bowls are highly sought after – especially if paired with all of their original cups. Expect to pay $100 USD or more for one in good shape.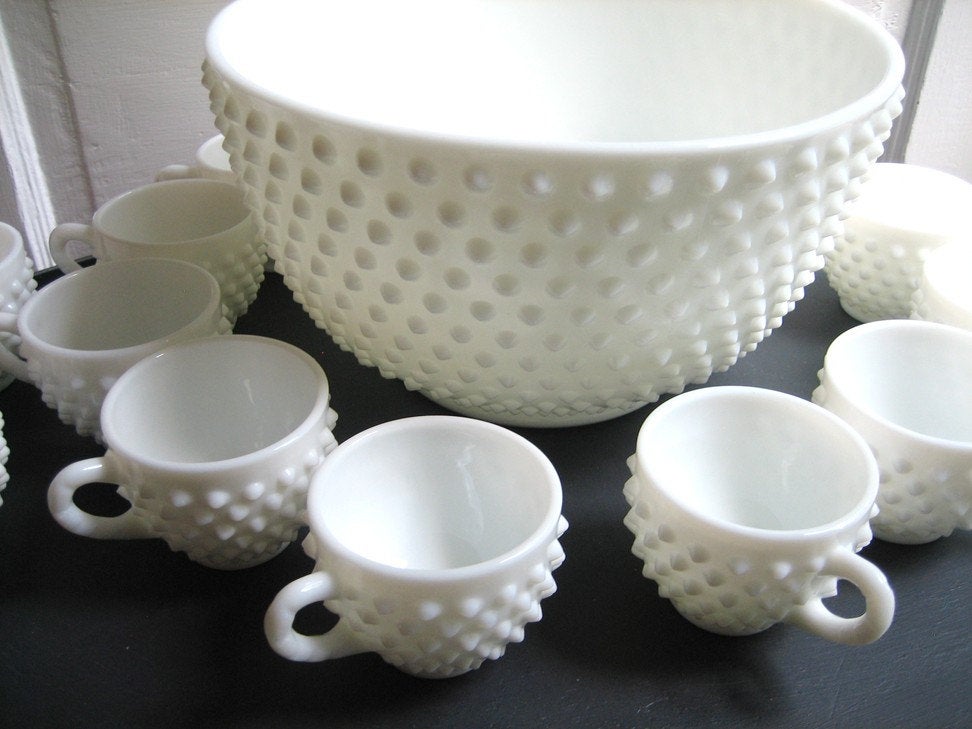 Milk Glass Cruets
Oil and vinegar cruets were popular during the Victorian era and became popular once again around the 1950's. Along it's worth about $25-50 USD with with it's partner and accompanying tray – more like $100+.
Milk Glass Plates
Actual dinnerware was never produced, but decorative plates with scalloped edges were used as serving pieces or simply as home decor. These go for anywhere from $20-50 or more depending on condition.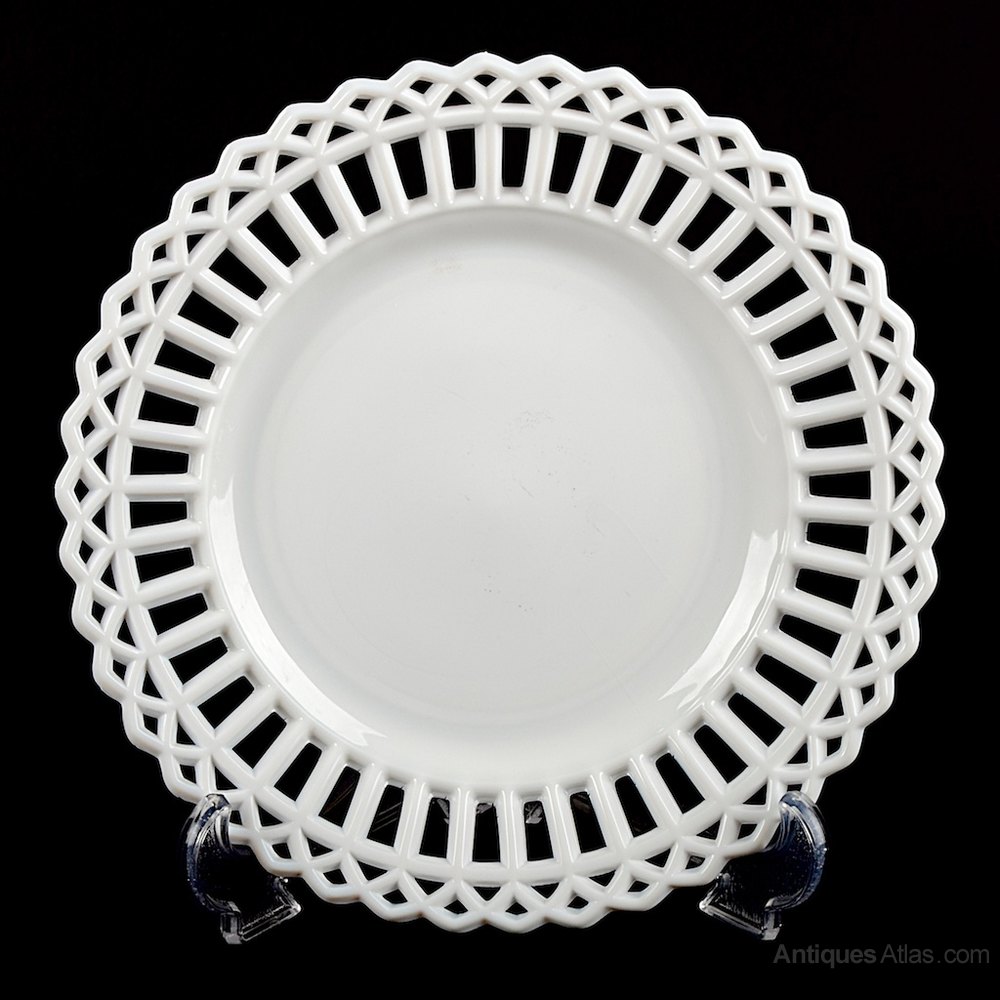 Milk Glass Covered Dishes
Covered candy dishes were a staple on buffet tables throughout the 1900's and like the first one I showed you in this post, these are highly collectible items.
Want to learn more about How to Identify and Value Vintage Milk Glass? Visit this helpful link!
National Milk Glass Collectors Society, nmgcs.org
---
Recommended Reading:
NOTE: Always use a current price reference as any printed material is likely out of date
Collectors Encyclopedia Of Milk Glass Identification/Values
The Big Book of Fenton Milk Glass: 1940-1985
Milk Glass: Imperial Glass Corporation Plus Opaque, Slag & More (Schiffer Book for Collectors)