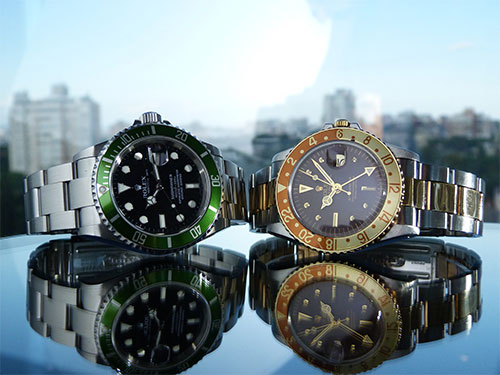 When it comes to vintage watches, many collectors will agree that there are watches, and then there are Rolex Watches. Never has there ever been another watchmaker who has been more deserving of the price and reputation that is synonymous with the Rolex brand.
---
Why Are Rolex Watches So Highly Valued
While brand hype may be a contributing factor for Rolex's popularity and desirability; they nevertheless have spent many years earning their reputation. When you buy a Rolex, you're not just paying for a brand name like you would with so many other high-end fashion accessories, you're actually buying yourself a finely crafted work of art.
Each and every Rolex is assembled by hand, taking almost a year to make. At set stages of assembly, every watch is individually put through vigorous testing regiments. Even the very diamonds that are used, are all individually tested and inspected for quality and authenticity.
Rolex even smelts its own metals themselves. The gold, platinum, and ceramics that are found in their watches, are all refined in-house. Outsourced metals are worked into the parts they need by their own technicians. With the exception of some synthetic sapphire crystals and dial hands, nothing is allowed to be manufactured or produced off-site.
By having so much control over every aspect of their products, Rolex is able to guarantee that their watches are of the highest quality possible.
---
Do Rolex Watches Hold Their Value?
Have you ever heard the term "Rolex watches are just as good as money"? This isn't just a saying. Complete Rolex watches, their individual components, and the very materials that they are crafted from are all so highly valued, that Rolex needs to transport every spec of their watches in discreet, heavily armored vehicles. Their manufacturing locations throughout Switzerland, are comparable to Fort Knox.
Being regarded as being such a highly sought after resource, most Rolex watches, if not all, will not only retain their value for years to come, but they can actually appreciate in value as well. This especially applies to rare/unique pieces that were either specially made or only produced in a very limited amount.
This isn't to say that every Rolex watch is going to grow in value, equally. Some Rolex watches may gain in value the moment they've been released. Others may take a while and will need the supply of mint-good conditioned models to fade away before any value could be seen in them.
---
Things That Can Affect the Value of a Rolex
There are many different factors that most collectors take into account when determining the value of a particular piece. There's the obvious rarity, material composition and even the condition of a piece that many a collector will be looking at. But there are also the internal and external components that need to be taken into account as well.
Cataloged Assembly
As Rolex assembles a watch, each and every single part has its own serial number, and these serial numbers are cataloged and assigned to the case serial number of that particular watch. This means that a watchmaker, or even a serious Rolex collector, could tell you everything there is to know about the inner workings of a Rolex watch, simply from its own serial number.
This cataloging process also makes it easy for collectors to determine if any parts have been replaced, both internal and external. The more commonly replaced parts are the hands, the bezel, and the wristband or its clasp. If any of these components have been replaced, it could have a significant impact on the value of a watch, sometimes reducing it by as much as 50% or more.
Personalized Engraving
Aside from the general wear and tear that most watches will receive from a lifetime of use, one of the most common forms of damage is something that is deliberately done to the watch.
Personalized engraving may add sentimental value to a watch, but in most cases, it will not carry this value over when being resold. The only time a personalized engraving could help to increase the subjective value of a Rolex would be if the engraving linked the watch to someone of historical significance or a pop culture icon.
To a collector of Rolex watches, these engravings may not hold any particular significance. Yet, to the fan-base members of this person, it could make the piece even more desirable, increasing the value of the watch among members of that community.
---
Our Top 10 Picks for Vintage Rolex Watches
Rolex as a brand has been around since 1905, registered as trademarked in 1908, and a company name since 1915. In all that time Rolex has produced many fine quality watches. So much so, that it can be difficult for a collector to name just one watch or style that is their absolute favorite.
We have taken a poll, and here are our top 10 favorite vintage Rolex watches, based purely on style and aesthetics.
FMV = Fair Market Value
1) 1930's Rolex Prince Doctors Watch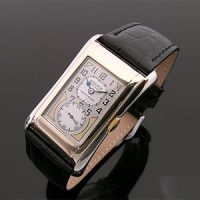 Featuring a flared and curved Brancard case, this piece from the 1930's is a must-have for any collector. Sometimes referred to as a "duo-dial", the Rolex Prince was a very popular model among Doctors thanks to its large easy to read seconds dial.
Value (FMV): $12,000 USD
---
2) 1961 Rolex Submariner 5512 (NO DATE)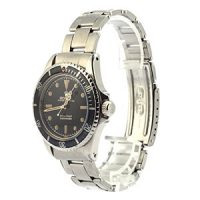 This sleek-looking dive watch from 1961, features a long 5 bezel insert. The choice of coloration against the platinum silver is both eye-catching and subtle.
Value (FMV): $59,000 USD
---
3) 1963 Rolex Datejust 1607 Rose Gold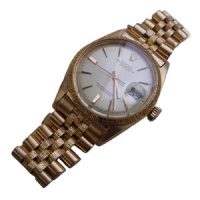 This stunning piece from 1963 is a very rare piece to find, let alone in rose gold. Even harder to find is one that has not been marked with engraving, be it initials, or a celebratory date.
Value (FMV): $30,000 USD
---
4) 1967 Rolex GMT-Master 1675 PEPSI Bezel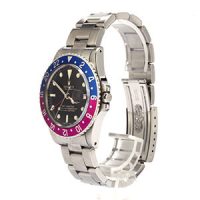 With the iconic half blue, half magenta PEPSI Bezel, the face of the watch stands out, even more, thanks to its creamy yellow hour markers and matching hands.
Value (FMV): $34,000 USD
---
5) 1968 Rolex Milgauss 1019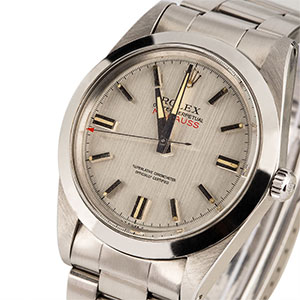 A simplistic yet elegant design. Each of the silver hour markers are dotted with luminous paint, with each index (1,3,6 and 9) featuring a stripe that runs the full length of the marker. The minute and hour hands are also painted with the same luminous paint, but what really catches the eye, is the red-tipped second hand.
Value (FMV): $24,000 USD
---
6) 1972 Rolex GMT-Master 1675 'Root Beer'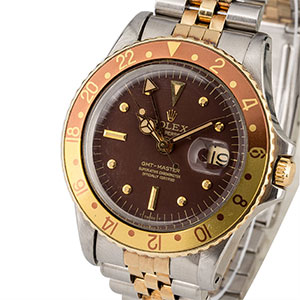 One of my personal favorite styles for a Rolex watch thanks to its nice balance of tones and shades. The Root Beer bezel blends well with the rose gold center strip of the wristband. But it's the golden index and "nippled" hour markers that really stand out for me.
Value (FMV): $10,000 USD
---
7) 1978 Rolex Explorer II 1655 Steve McQueen Watch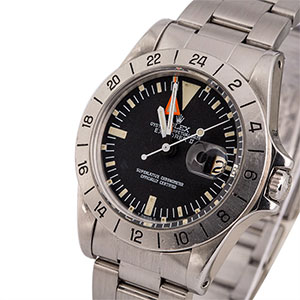 The industrial/engineered look of this piece makes the Steve McQueen Explorer II look rugged and durable, yet sleek and lightweight. This model makes use of not only the hour markers but also the half-hour marks as well.
Value (FMV): $19,000 USD
---
8) 1979 Rolex Submariner 1680 Feet First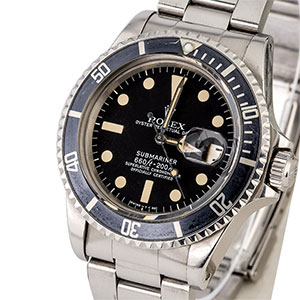 There is very little difference in the way of design between the 1961 Rolex Submariner 5512, and the 1680 Feet First Submariner, but the addition of the date display and the subtle color variation makes this piece worth mentioning.
Value (FMV): $17,000 USD
---
9) 1981 Rolex 1665 Sea-Dweller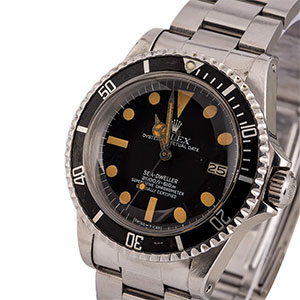 The Sea-Dweller model is another of the quality dive watches produced by Rolex. The dark mustard colored hour markers and the subtle date display makers the Rolex 165 Sea-Dweller a worthy collectors piece.
Value (FMV): $21,000 USD
---
10) 1984 Rolex Explorer II 16550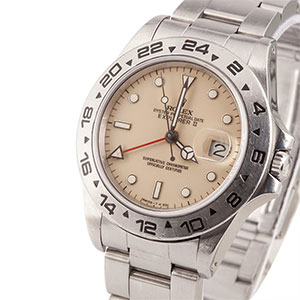 Despite its name, the Rolex Explorer II REF 16550 model is of a more elegant and sophisticated design than its predecessor, the 1655 Steve McQueen. Featuring a more sleek design, and slender looking hands and hour markers, the 16550 is a watch made for the concrete jungle.
Value (FMV): $19,000 USD
---
Final Thoughts
There is no greater all-round watchmaker than Rolex. The pieces that they produce are works of art that have been meticulously pieced together, masterfully crafted, and very well received. There are not many products, brands, or collectibles out there that will not depreciate in value. Rolex is one such brand.
If you take good care of your Rolex watches, they have been known to retain their price quite well. With many models even gaining in value over time. There is a reason why some people would rather invest their money in Rolex watches than to buy paintings or take part in other more traditional financial collectibles.