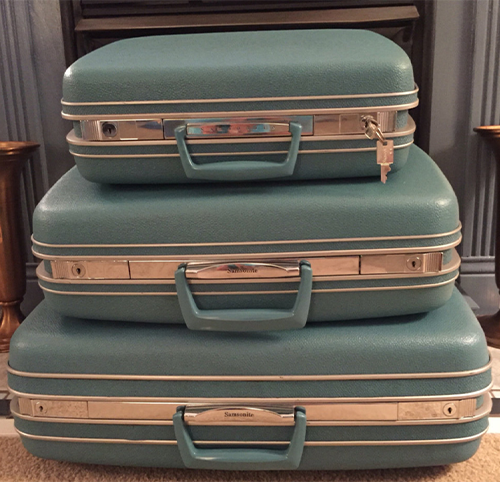 Samsonite, just like their name sake Samson, is synonymous with strength, and durability, and yet they somehow manage to maintain an air of elegance and luxury that most other luggage brands have not been able to match.
Just like the biblical charter Samson, the Samsonite Corporation has survived adversity after adversity, and when weakened, they built themselves back up, becoming stronger than ever. As a brand, they've survived two major recessions, the 1929–1933 Great Depression and the 2007-2009 Great Recession, world wars, and have even managed to outlast many of their competitors and former owners.
When it comes to vintage or luxury luggage, there are few companies that can match the Samsonite brand of travel bags, suitcases, and trunks.
Humble Beginnings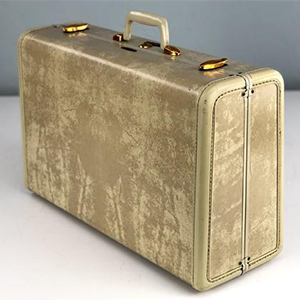 Samsonite was originally started by just one man, before it grew into a family business, and then into a globally recognized corporation.
Founded by Jesse Shwayder on the 10th of March, 1910, in Denver, Colorado. The Shwayder Trunk Manufacturing Company, as it was originally named, was started with just one goal in mind, to compete with the market by producing high quality, durable goods. Shwayder knew that he would never be able to compete on price. So he aimed his targets at the higher value end of the market, and charged a premium for his wears.
Inspired by the biblical tale of Samson, Shwayder would go on to both design and name one of his initial lines of cases, the Samson, after the biblical strongman.
Over the course of 20-30 years, Shwayder worked on perfecting his Samson line, making them even more durable, all the while without sacrificing luxury, and in 1939 he introduced his new vulcanized fiber model to the world, the Samsonite.
As this new suitcase began to grow in popularity, the company trademarked Samsonite in 1941. In 1965, the popularity of the Samsonite line of suitcases grew so much, that it became their best seller, which encouraged the company to adopt Samsonite Company as their new name, and the rest is history.
Company Ownership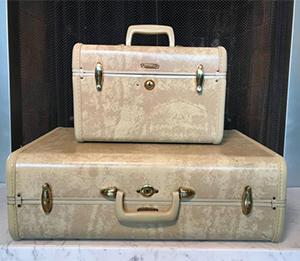 Shwayder Trunk Manufacturing Co., later becoming Samsonite Corporation, remained a family owned business up until 1973, some three years after Jesse Shawayder's death in 1970.
The Beatrice Foods Company, an American based food processing company, initially purchased the business, and allowed them to operate relatively independent of them, while backing them financially.
That was until 1986, when Beatrice Foods Company sold off its international food operations to Reginald Lewis, one of America's richest African-Americans at the time, and the majority of their domestic brands, including Samsonite, to Kohlberg, Kravis, Roberts (KKR), a global investment firm.
Over the course of the next 20-30 years, ownership of Samsonite would change hands several times, bring with it many highs and many lows:
In 1973 the Samsonite Company was bought by Beatrice Foods Company, thus ending the family ownership.
In 1986, Samsonite was sold to Kohlberg, Kravis, Roberts (KKR)
1987/88 about 15-18 months after buying Samsonite, KKR spun Samsonite and eight other companies into a new company called E-II Holdings Inc.
In 1988, no more then 6 months after being formed, E-II Holdings, along with Samsonite, was sold to American Brands (now known as Fortune Brands)
This was before it was purchased by the Riklis Family Corp. shortly there after.
In 1992 E-II Holdings Inc. was renamed Astrum International, following bankruptcy proceedings.
In 1993 Samsonite was complemented by the acquisition of American Tourister Luggage.
In 1995, Samsonite became independent again after Astrum was broken up into 2 companies.
In 2005, former chief executive of Louis Vuitton, Marcello Bottoli, took control of the company.
In 2007, CVC Capital Partners Ltd took ownership of Samsonite.
In 2009, the Samsonite Company Store LLC (formally known as Samsonite Company Stores Inc), filled for Chapter 11 bankruptcy, seeking to close up to 50% of their stores, and to discontinue their Black Label brand within the US.
Since 2012, Samsonite has continued to acquire competing brands, thus strengthening their foothold in the luxury luggage market.
Samsonite Vintage Collectibles
Today, earlier pieces of Samsonite luggage are sought after by many avid collectors. As durable as they were, it is hard to find a piece in pristine condition, with most units having stained, worn, or torn fabrics, or dents and gouges.
Even so, whether its for sentimental reasons, or historical value, Samsonites in various conditions and models, are still being sought after to this very day.
Here are a few examples of how much a Samsonite may go for:
| | | |
| --- | --- | --- |
| | Description | Esstimated FMV (USD) |
| | Vintage Retro 25″ Brown Samsonite Suitcase | $170.00 |
| | 1970's Blue Samsonite Makeup Case | $165.00 |
| | Brass Leather Shwayder Bros Suitcase | $130.00 |
| | Vintage Samsonite overnight case | $120.00 |
For more examples of vintage luggage, please have a read of our Vintage Luggage Bags and Their Values article.
Other Brands Owned By Samsonite
Samsonite Red
American Tourister
Hartmann Luggage
High Sierra
eBags
Lipault
Speck Products
Tumi Inc.
Kamiliant
Gregory Mountain Product
Final Thoughts
Like so many other well known and trusted brands out there, Samsonite luggage could net you some extra cash. If you happen to find one sitting in your attic or buried in the garage, have it evaluated, you just might surprise yourself.