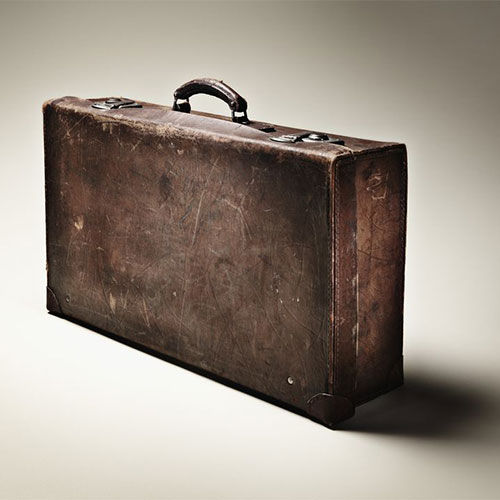 Luggage bags, like so many other mundane items that we take for granted in our day to day lives, could very well become the next desirable collectible.
Despite the various materials that have been used to make the different types and styles of luggage bags over the years, few pieces have managed to last the test of time. Sometimes they were damaged by the elements, handled too roughly by baggage handlers, maybe even thrown around in cargo holders or simply lost in transit never to be seen again.
The life of most travel bags, suitcases and trunks is a rough one. They are not built nor designed to be handled with care. They are made to take a beating, to carry as much as possible, and to help protect and keep your belongings as safe and secure as possible. Essentially, luggage bags are the unappreciated workhorses of the baggage world.
Why Do People Collect Luggage?
Some pieces of luggage may hold a historical significance. They could have belonged to someone of importance such as a former president, a famous singer or actor, or been part of a disastrous voyage such as the Titanic.
Others collect simply because they like the look of older designs, or are fans of a particular company or designer. In either case, there are many people out there that actively seek out older travel bags, trunks, and cases, to add to their collection.
What Do People Do With Luggage That They Collect?
Some people have practical uses for their collections. They might use the various pieces to store items; use them as center pieces for their home decor, or as part of an art piece. Others may re-purpose the luggage, making shelving, tables or even displays out of them.
They do this, either as a result of the design and appearance of that particular piece, or because of it's shape and size, or due to the materials that it was made out of.
Some pieces may even be fully restored and given a new life as a carry on, or once again thrown back into the rough and tumble world of airline baggage handling.
Types of Luggage People Collect and Their Values
Most antique luggage (1900's and earlier) have a boxy, trunk and chest like design. As technology improved, luggage began to take on a more bag-like appearance.
Cultural trends also helped to steer their designs. From boxes and trunks, to suitcases and briefcases, to the casual and functional designs of today's carry-ons and capsules, each time period has its own design and style.
Suitcases Through the Decades
---
1920's – 1930's
Siting somewhere between a trunk and a suitcase, the 1920's and 1930's saw many luggage designs that still relied upon external reinforcements to hold the rigid material in place. Bags where made out of thick tough leather, with very few luggage bags being made out of flimsy fabric that was not reinforced in some manner.
Here are a few examples of Luggage bags from the 1920's and 1930's:
1) Prager Durabell Luggage Suitcase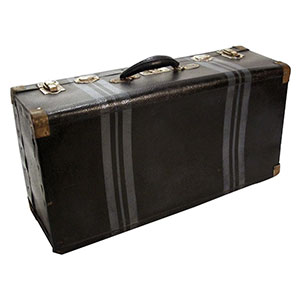 This particular suitcase was being used as a movie prop. None the less, its design and function is still very reminiscent of luggage from the 1920's.
Estimated FMV: $200.00 USD
2) Chief Cube Steamer Trunk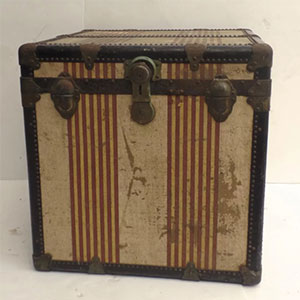 One of the last styles of luggage trunks to be produced in the 1930's. This sort of luggage was phased out as better, more durable suitcases designs became more popular.
Estimated FMV: $230.00 USD
3) Rauchbach Striped Fabric Suitcase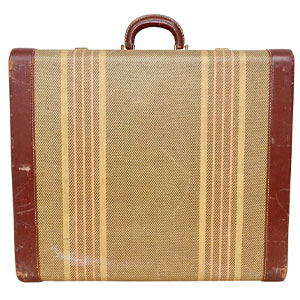 This hard case suitcase, used a stripped fabric to coat the exterior and leather along the edging for additional reinforcement. Many Rauchbach suitcases could be personalized with monograms near the handle.
Estimated FMV: $250.00 USD
4) Harrods Leather Suitcase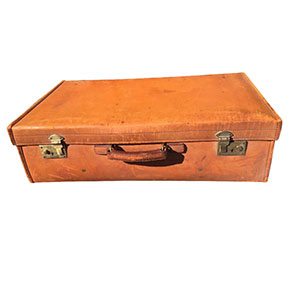 This sort of stitched together hard leather suitcase was very common for the late 20's, mid 30's. There is a rib frame along the edges that holds the shape of the suitcase. Like many leather products from back then, these suitcases were easily deformed under pressure or following exposure to high enough levels of moisture or heat.
Estimated FMV: $155.00 USD
---
1950's
Following the end of World War 2 there were some major changes made to the aviation industry. There was a surplus of skilled pilots who had honed their skills as fighter pilots, and with the American government ending their decades-old subsidy deal with airlines to fly mail, the major air-lines looked to expand their operations. To help secure a more reliable source of revenue, air travel was made more accessible to even more travelers, well to those who could afford it anyhow. This upsurge in passengers helped to drive the need for more compact, and particle luggage, over the boxier designs of yesteryear.
1) Wings United Brass & Tweed Style Travel Luggage Suitcase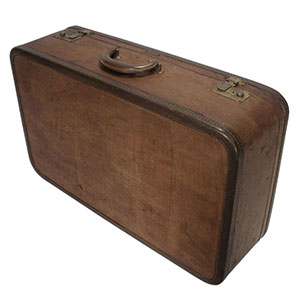 Inside this sort of suitcase, there was cloth compartments to store papers, and small possessions, as well as cloth strips that were used to tie down your folded clothes.
Estimated FMV: $125.00 USD
2) Rauchbach Leather & Brass Travel Luggage Suitcase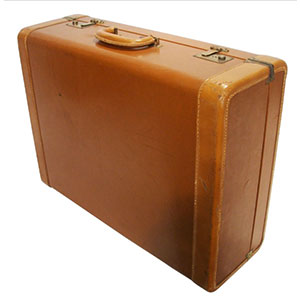 Yet another suitcase from the long line of Rauchbach luggage lines. This particular model was made with two buckle bands along the inner side of the lid, and a compartment tray that could be pulled out, giving you two layers in which to store your belongings while keeping them separated.
Estimated FMV: $210.00 USD
3) Navy Blue Leather Olympic Suitcase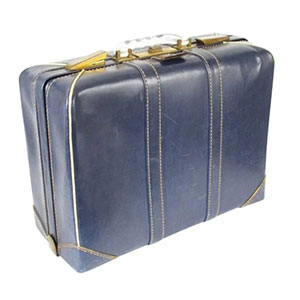 Another compartmentalized suitcase that had a central divide. The lid of the case had two belt straps that were used to help secure your folded clothes in place while the suitcase was open. The base was open and deep, and there was an elastic pocket on both sides of the divider.
Estimated FMV: $80.00 USD
---
Collecting By Brand
For some collectors, its not about style, appearance, or of any particular historical significance, its simply about brand power. Just like with many other accessories and clothing brands, travel luggage companies also have their own fan base that seek to collect as much of their product lines as possible. Here are two of the most prominent examples.
1) Hartmann
This world renowned brand was originally established in 1877 in Milwaukee, Wisconsin. Hartmann have been known for producing their range of distinctive collections that were made to the highest standards of quality and craftsmanship. Though they were once originally American made and owned, the company has since gone global and now produces their product all across the world.
1) Hartman Ultra Suede Leather Suitcase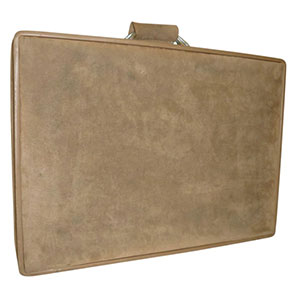 Estimated FMV: $90.00 USD
2) Hartmann Belting Leather Pullman Golden Oak 3 Piece Set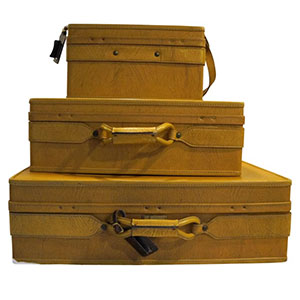 Estimated FMV: $420.00 USD
3) Hartmann Brass Leather Tweed Damask Suitcase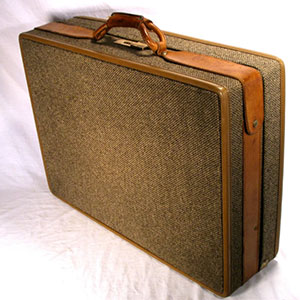 Estimated FMV: $170.00 USD
2) Louis Vuitton
Arguably one of the most easily recognized brands in the world. Louis Vuitton was first established in 1854 in Paris, France, and is one of the biggest names in the fashion industry today. It may come as a surprise to you but Louis Vuitton has been making luggage since 1858, with their first line being their range of flat-topped trunks with trianon canvas, that were lightweight and airtight. Thanks to their popularity in general, most of their products, if not all, are highly sort after by avid Louis Vuitton collectors.
1) Louis Vuitton Cabin Trunk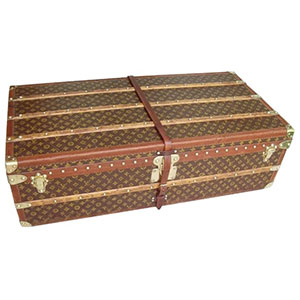 Estimated FMV: $12,000.00 USD
2) Louis Vuitton Steamer Trunk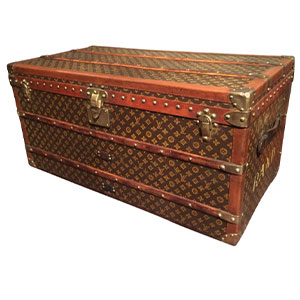 Estimated FMV: $19,550.00 USD