Disney Collectibles
Since Mickey Mouse first appeared in the 1928 short film "Steamboat Willie".
Fans and collectors alike have searched far and wide for memorabilia from the Walt Disney Studios.
From original movie posters, to movie cels and commercially produced merchandise.
Collections have become known as Disneyana among the dedicated collectors.
Collections consist of the Walt Disney Classics such as Mickey Mouse, Donald Duck and Snow White and the Seven Dwarfs.
To the more modern Disney Movies and TV shows, with fans are stocking up on memorabilia in the hopes of striking it gold in the years to come.
This article will be going over some of the rare Disney Collectibles and their what their values would be.
Original Movie Posters
When the Disney movies first came out, they would use multiple posters to promote the movie or short film.
Each poster variant could have a different scene from the movie. Or even simply have names of the people involved in the production and the writing added or removed.
These differences are listed as styles, such as Style A or Style B.
Not every style has value, some could have been limited prints or others linked to a specific screening.
1) Fantasia Style B With Stokwoski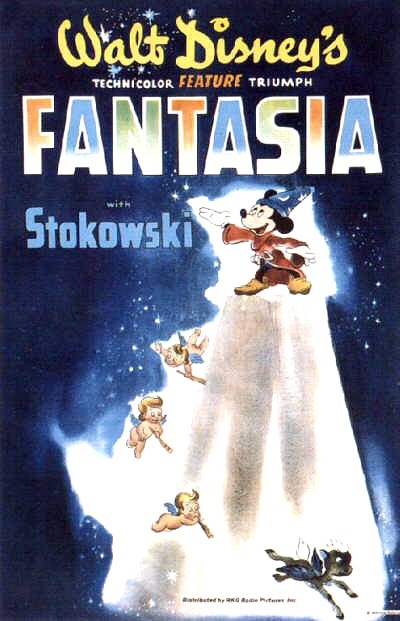 Released in 1940.
Style B included composer Leoplod Stokowski's name as part of the promotional material.
Estimated Price: $16,230 USD
2) Donald Duck, Sea Scouts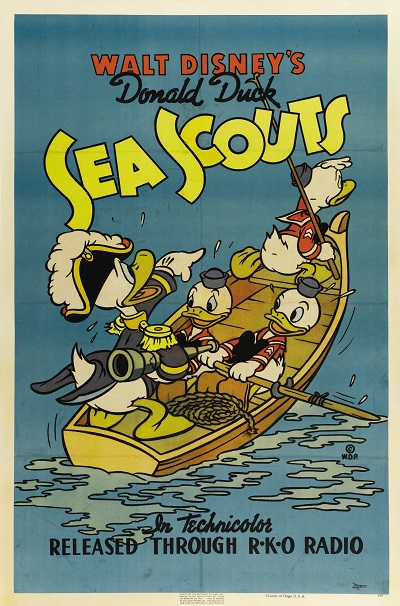 Released in 1939
Considered one of the best earlier films containing Donald Duck. This poster is highly sought after by fans of Donald and his three nephews, Huey, Dewey and Louie.
Estimated Price: $9,000 USD
3) Alice In Wonderland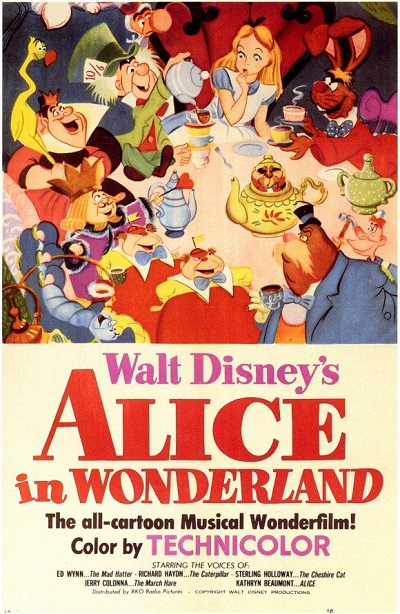 Released in 1951
Boasting some of Disney's most twisted and serial images, this beloved classic has granted us some of the most memorable characters. From the Mad Hatter to the Cheshire Cat and the Queen of Hearts, these iconic characters have helped to make this movie a memorable classic. Despite its lukewarm reception upon release, this retelling of Lewis Carroll's classic English literature, has grown a cult following.
Estimated Price: $6,900 USD
Mickey Mouse and Minnie Mouse Pairing
Often considered to be Disney's most iconic couple. Items that either consist of the two together or are a paired set can be highly sort after.
Ranging from plushy's to tin toys and badges.
4) Tippco Micky and Minnie Mouse On a Motorcycle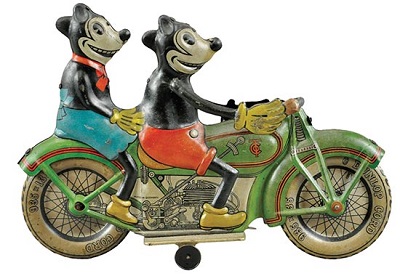 Released in 1932
This piece is the most desirable German toy from its time period due to its cross over appeal with motorcycle collectors and Mickey and Minnie fans.
Estimated Price: $56,000 USD
5) Lionel Mickey Mouse Hand Car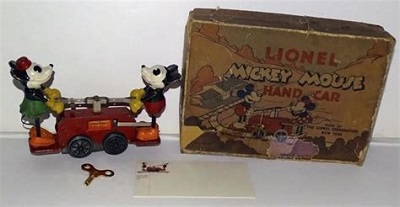 Release in 1934
This little windup toy originally sold for $1.00. It was credited with saving the Lionel Manufacturing Company from bankruptcy during the great depression.
Estimated Price: $500 USD
6) Old King Cole Window Display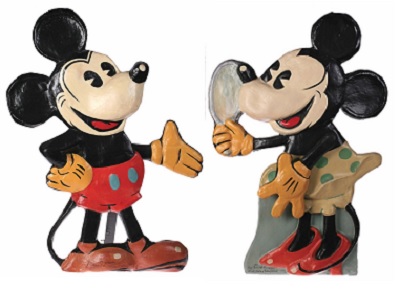 Released in 1935
Standing at an impressive 30″x 40.75″ and 28.75″ x 42″ respectively. These mechanical window displays are not only hard to find as a pair, but its even rarer to find both in functional condition.
Estimated Price: $50,000 USD price is heavily impacted by the condition of both models, if a pair can be found
Piggy Banks
Several styles of money tins, piggy banks and cash boxes have been produced over the years.
Some designs were a simple printed tin with a coin slot located at the top. Many of these tins did not have a way to remove the money once its full and had to be destroyed, damaged or broken in order to get the money out.
Other designs implemented a simple mechanical mechanism that either used a coin slider or leaver to drop the coins into the box. These money banks encouraged kids to save more money, by making it fun for the kids to put money into them.
7) Money Banks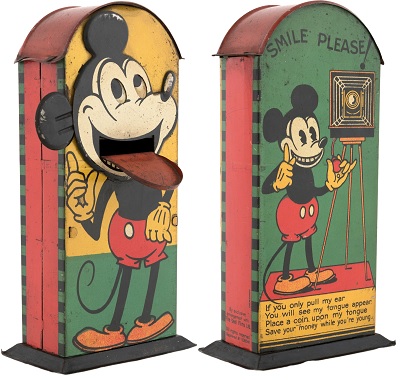 Released in the 1930's
Kids found it fun to pull Mickey's right ear to make his tongue stick out. Placing a coin on his tongue they would then push it into his mouth and he would swallow the coin. Mickey's eyes would also look up when his tongue was out, and look down when his tongue was in. A mint working condition unit would fetch the highest possible price.
Estimated Price: $33,430 USD
Windup Toys
Many of the earlier toys produced for Disney were made from tin and lithograph stenciled. Many of these designs included basic movements such as a waddle walk or rotating wheels.
Some toys have lasted the years with their mechanisms intact while others haven't been as fortunate. Working condition toys will be worth more then their lower counterparts with broken springs.
8) Mickey Mouse Organ Grinder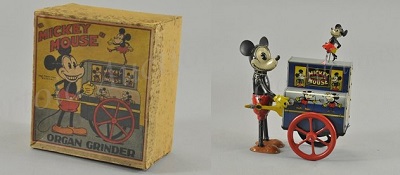 Released in 1932
Minnie Mouse dances and twirls on top of the organ, while Mickey cranks the organ. This piece is an excellent example of how much a mint condition unit can felt in comparison to a poorly cared for unit.
Estimated Price: $19,000 USD pending on condition and original boxing.
9) Walking Mickey Mouse, Celluloid Wind Up Toy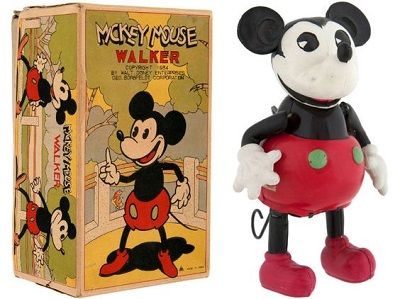 Released in the 1930's
This toy would prop itself up with its tail allowing it to stand while it was stationary. The arms and legs would move as part of its walking animation.
Estimated Price: $500 – $7,000 USD pending condition.
10) Mickey Mouse as Cowboy on Pluto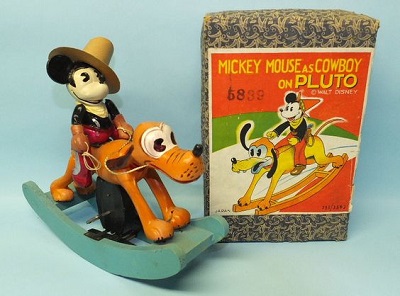 Released in the 1940's
This duo are another fan favorite when it comes to iconic pairs in the Disney franchises. Always his faithful companion, Pluto can be seen here filling the role of faithful steed, as 3 wheels would move and rock them back and forth as the key wind unwound.
Estimated Price: $6300 USD
Plushy
The classic stuffed toy can be a highly sort after item by many collectors.
If a plush toy has managed to last long enough being protected from the elements and pests and the children themselves.
Mint condition plushies are extremely rare collectibles, Disney or otherwise.
If you are fortunate enough to have one it just might fetch a high price.
11) Knickerbocker Mickey Mouse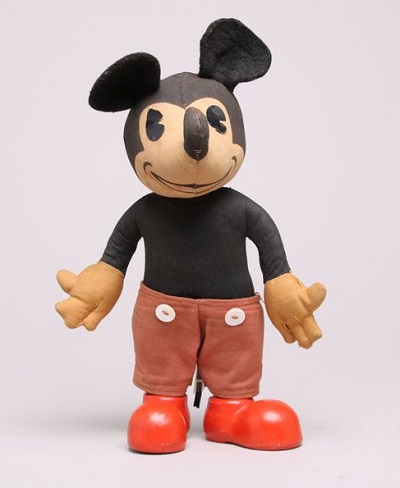 Released in the 1930's
Being one of the first plushy dolls to be produced has made this item a highly sort after collectible. With near mint condition units selling for high prices.
Estimated Price: $19,000 USD
12) Easter Parade Outfit Knickerbocker Mickey Mouse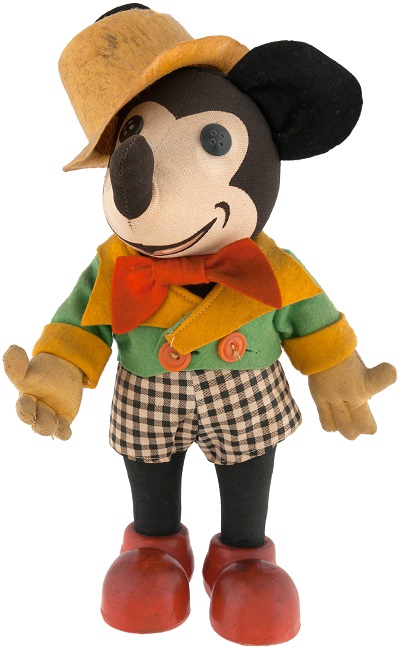 Released in 1936
Sold during the Easter of 1936 as a limited release. The limited number produced as well as the usual factors that make items rare over time. Has made this item a highly sort after collectible.
Estimated Price: $10,800 USD