The Walt Disney Studios have produced some of the most highly sort after memorabilia and collectibles of all time. There is one product that stands out most as having the largest impact and influence on the lives of so many. Over the years the humble piggy bank has not only taught many children around the world the skills needed for saving money. They also gave many of us a sense of pride every time we managed to save up enough money to buy that new toy or see how much money we were putting into our bank accounts.
Disney was able to capitalize not only on the parents who were wanting to help their children learn vital skills for the future. But also the child's fascination and obsessions that comes with their favorite characters.
From Mickey Mouse and his friends, to Disney Princesses and beloved characters from all of their movies and shows. We are able to find piggy banks still being highly sort after, even today. This is not just limited to the older characters, styles and designs. As both adults and children alike, happily take ownership of the news release based off of their favorite characters and movies.
Here are a few examples of Mickey Mouse and friends themed piggy banks that enthusiast and collectors are seeking out these days.
1930's – 1940's Classic Disney Characters
While Mickey Mouse and Donald Duck are some of the more well known classic Disney characters. There are many, more lesser known characters such as Elmer the timid elephant. These smaller lesser known characters have their own cult following today, as they usually displayed a character trait that many children could relate to, such as being the target of bullies. Mickey and Donald still remain the easier charters to find due to their popularity and production volumes.
1) Drum Playing Elmer With Movable Trunk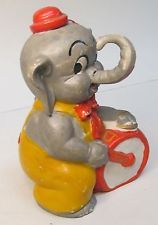 Estimated Sales Price: $60.00 USD
2) Vintage Ceramic Donald Duck Holding a Coin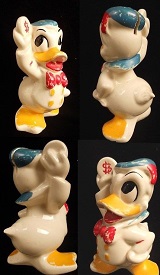 Estimated Sales Price: $75.00 USD
3) Mickey Mouse Tin Lithograph Beehive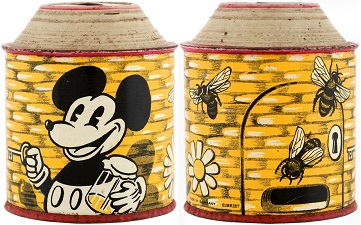 Estimated Sales Price: $175.00 USD
4) Mickey and Minnie Treasure Chest

Estimated Sales Price: $230.00 USD
5) Bobble Head Donald Duck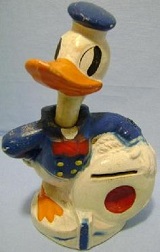 Estimated Sales Price: $140.00 USD
1950's – 1960's An Expanding Universe
With the introduction of new characters, franchises and the opening of Disneyland. More and more families were introduced to the wonders of Disney. A time to be considered the golden years of Disney by many, we saw the creation of the Mickey Mouse Club, Disney's first TV program Disneyland, and live-action film Treasure Island. With these Disney franchises expanding, we got to view many of Disney's classics for the first time.
1) 2nd National Duck Bank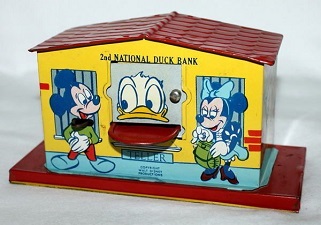 Estimated Sales Price: $230.00 USD
2) Vintage Uncle Scrooge Holding a Bag of Money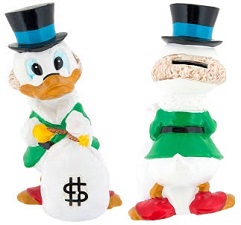 Estimated Sales Price: $45.00 USD
3) Promotional  Nabisco Wheat Puffs Puppets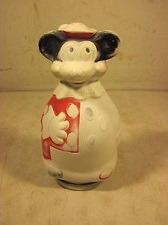 Estimated Sales Price: $30.00 USD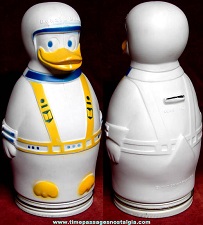 Estimated Sales Price: $25.00 USD
4) Enesco Donald Duck Head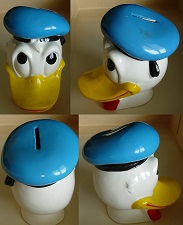 Estimated Sales Price: $ 60.00 USD
1970's – 1980's The Arrival of Home Entertainment
A period where people were no longer limited to just watching Disney films at the cinemas. As Disney produced more and more TV series, they were able to tell more stories through direct to TV shorts and episodes, bringing in more and more fans.
1) Donald Duck With a Blue Hat and a Red Tie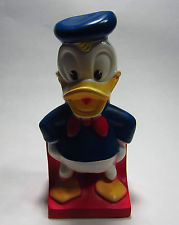 Estimated Sales Price: $30.00 USD
2) Waving Donald Duck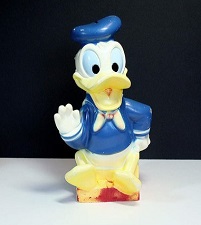 Estimated Sales Price: $40.00 USD
3) Silver Plated Donald Duck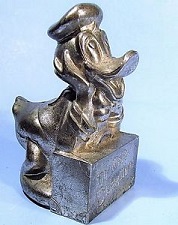 Estimated Sales Price: $95.00 USD
4) Brown Glass Mickey Mouse Club Piggy Bank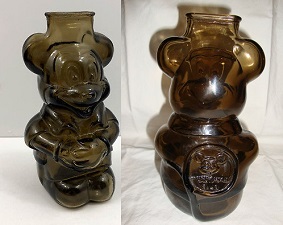 Estimated Sales Price: $15.00 USD