Pull Toys
The most famous collector pull toys were created in the 1930's by popular brands such as Fisher Price and Lego. Pull toys made during this time were wooden, had string attached for a young child to pull along with the majority of them having wheels attached to the base. Many pull toys were animal or car shaped, painted and hand crafted. Animals such as lions, horses, dogs, lambs, goats and bears were popular pull toys created during the 1930's. Well known pull toys collected today include the 1935 Lego Duck and the 1923 No. 4 Liberty Coaster Wooden Wagon.
1935 Lego Duck
Released in 1935, this wooden duck on wheels would be one of the first toys made by the Lego company.  Not only one of Lego's first toys made but also amongst the most popular within the wooden toy collection. Made completely of wood, the Lego duck features a painted orange mouth, a red body and black wings, tail and head. The duck sits upon a black plank with four red wheels. The beauty of this antique wooden toy is that when the child pulls it along the beak of the duck opens and closes.
These were hand painted by workers of the Lego company making each wooden duck slightly different. Later versions of the wooden ducks were painted using stencils. Originally these toys sold for not much more than one USD. Today these are highly sought after collectors items making them worth upwards of $2000.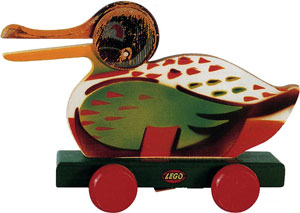 1935 Lego Wooden Train
A three piece train set created by Lego in 1935 was a popular gift for young boys. The three pieces included an engine, a coach and box car which were all painted in red and white. When selling to the right buyer, these three piece train sets can sell for upwards of $100.

No. 4 Liberty Coaster Wooden Wagon
Made during 1923, the No. 4 Liberty Coaster Wagon was hand crafted with wood and sold directly to small toy chains by the creator, Pasin. He would create these wooden wagons during the night and then attempt to sell them of a day. Although this first model was crafted of wood, later models were made of stamped steel. This wooden model was the first of many wagons to come. Depending on the condition, these wagons can sell for upwards of $400 today.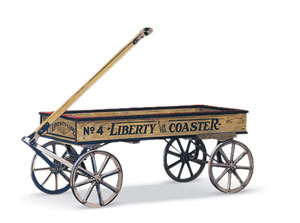 1936 Fisher Price Pushcart Pete
Another popular pull/push toy from the 1930's was Pushcart Pete created by popular brand Fisher Price. This push toy has a man standing behind a cart. The mans head moves when the cart is pushed and the wheels turn. During 2007 a Pushcart Pete original wooden toy sold for $12,500 and in 2009 sold for $8,000. Depending on the condition, Pushcart Pete original wooden toys sell for upwards of $3,000.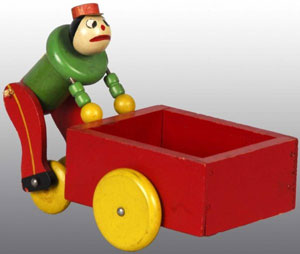 Puzzle and Construction Toys
Jacob's Ladder
These toys have been around for over a century, dating back to 1889 although have thought to be played with by children earlier. This toy contains wooden blocks held together with string. An optical illusion is formed when the blocks appear to cascade down the string. These wooden toys would occupy children for hours. Although not the antique version, Jacob's Ladder created by popular brand Hasbro's Playskool, can sell for over $30.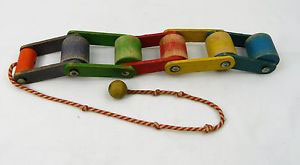 1920's Lincoln Logs
Original Lincoln Logs sets produced during the 1920's were made purely from redwood. They would come  with instructions on how to create miniature versions of two different popular cabins in America. Created by John Lloyd Wright and named after America's 16th president, these building type toys would be one of the first toys to air on television towards the end of the decade. Original Lincoln Logs can sell for up to $600.