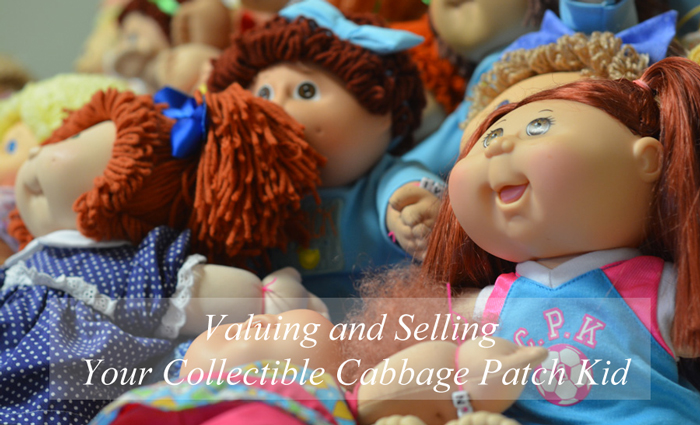 In this Cabbage Patch Kid Guide, you can expect to find useful information that will help you price your vintage collectible doll and ensure it is fit for auction.
If you've browsed the toy aisle at your local superstore, you may have noticed the reappearance and recent rise in popularity of the Cabbage Patch Kids. These soft-bodied, hard-headed, and deliciously smelling dolls are still being wish-listed with parents seeking out a special Cabbage Patch Kid to gift to their children since the 80's when the craze first began. These days not only can you purchase the standard sized dolls, the addition of the Cabbage Patch 'Cuties' means that there's something for even the littlest family members to love and cherish. If you were lucky enough to have kept your much loved Cabbage Patch Kid from your childhood, or perhaps your 'Little People Original', you may be now seeking an appraisal or looking to determine the current market value of these highly sought after vintage items.
While Cabbage Patch Kids are far from earning the title 'Antique', they are in fact vintage collectible pieces. Some may collect them for their nostalgic value, while others simply have an interest in the artist or can relate to a particular Cabbage Patch Kid. It appears in the vintage market, some dolls are specifically sought after by collectors, including those with bright red hair. The 'one-of-a-kind' Cabbage Patch Kids that were handcrafted are often highly sought after by keen collectors in comparison to the factory mass-produced CPK's. In saying this, it is always worth researching the value of your prepackaged Cabbage Patch Kid, as some of these have risen in popularity among collectors.
---
What are the Different Types of Cabbage Patch Kids?
While all Cabbage Patch Kids may appear similar, vinyl heads, soft bodies, and hair, there are some differences that set them apart and see some fetching much higher prices in the vintage market. While some CPK's were mass-produced for retail in major stores such as Target, others were specialty dolls, that were literally 'One of a Kind'. These dolls were handcrafted and no two were ever exactly the same. This also means that it is impossible for there to be set resale values. The seller has the option to set a price for their unique vintage doll. While some of the mass-produced dolls can fetch a reasonable resale price, as there have been millions upon millions of Cabbage Patch Kids sold since the 80's, with many of them being mass-produced replicas of one another, you cannot expect to see a return of more than a few hundred dollars for your packaged Cabbage Patch Kid.
Even today, the same types of Cabbage Patch Kids exist. Those that are mass-produced, boxed, and available on the shelves of toys stores and those that are specially handcrafted in Cleveland by local artists. While there is a Cabbage Patch Doll perfect for everyone, if you have the extra money on hand, purchasing a Hand-Stitched Original will ensure that you have the only doll of its kind in the world, and who knows one day that doll may make you a small fortune!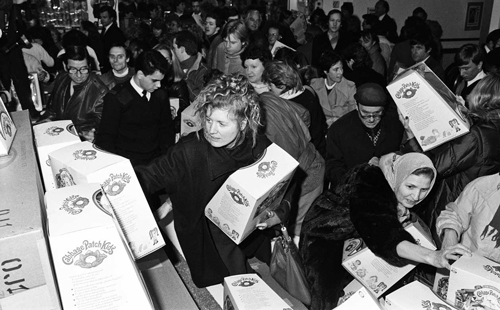 ---
Considerations When Selling a Cabbage Patch Kid
Like any antique or vintage item, the current condition plays a major role in the overall value. This is true for the Cabbage Patch Kids. Furthermore, those sold with their original birth certificate, clothes, accessories, and box (if boxed at the time of sale) are of higher value than those who have been a child's comfort toy, dragged everywhere over the years.
Before you list your Cabbage Patch Kid on any marketplace, you'll want to determine the current value of your doll. You'll also want to make sure that it is a genuine Cabbage Patch Kids before listing it.
A number of things to consider when listing your vintage Cabbage Patch Kid:
Does my CPK sport any of the highly sought after features? (For example, those with red hair are of higher value)
Is my Cabbage Patch Kid a handcrafted, one of a kind doll? (This means that the doll was not purchased from a large chain toy store)
Do I have the original box and birth certificate? (Dolls with original clothing, birth certificate, and boxes are of higher value to collectors)
Should I clean my doll before listing it? (If a doll is cleaned properly, it may attract more bidders)
Where is the best place to list my vintage Cabbage Patch Kid? (Listing your vintage item on an appropriate marketplace will ensure you have a targeted group of bidders)
What is the age of my Cabbage Patch Kid? (Generally, the older the better!)
Can I prove the authenticity of my Cabbage Patch Kid? (Ensure your doll is an authentic CPK)
---
Is my Cabbage Patch Kid Authentic?
Before rushing to list your vintage Cabbage Patch Kid you should first determine that it is indeed authentic as soon after their popularity in the 80's many copies of the dolls infiltrated the market. If you were gifted the doll as a present, you may not even have been aware of its authenticity until now. To ensure that you have a real, authentic Cabbage Patch Kid you should make note of its size, craftsmanship, and features.
Cabbage Patch Kids produced by the Coleco company after 1982 stood 16 inches tall and featured the soft bodies and vinyl heads that we relate the trademark to while those first produced by Xavier Roberts himself, the real and original Cabbage Patch Kids were entirely soft. Knowing the timeline of Cabbage Patch Production will allow you to determine whether or not your Cabbage Patch Kid is genuine. The birth certificate that your doll should have been sold with states the year that the Cabbage Patch Kid was 'born'. This is the dolls year of production, and often the older the doll, the more valuable it is to collectors. You will need to compare this with the notable features of dolls produced during that year to ensure its authenticity.
Genuine Cabbage Patch Kids will have the original creators' signature on their tosh. It will either be hand-signed if the doll was produced in the very early years or printed as the dolls became mass-produced.
Notable Feature
Production Company or Production Year
Factory Codes Found on Tag
IC, KT, OK, P, PMI, SS, UT and WS.
Coleco
Cloth Face
The earliest dolls known as 'Little People Originals' were hand crafted by Xavier Roberts.
Xavier Roberts
Color of the Signature
The color of the signature found on the bottom of the Cabbage Patch Doll is a good indication of the year of manufacture. A blue signature was used during 1985, red in 1986 and then in 1987 an aqua signature was used.
Black: 1983
Green: 1984
Blue: 1985
Red: 1986
Aqua: 1987
Purple: 1988
Rose: 1989
Signature Date
While the original dolls did not include a production date, those produced in more recent years have a date of production.
On many of the more recent dolls, the company and year of production can be found on the tag.
---
What is the Current Value of my Cabbage Patch Kid?
While there is no exact value for any vintage item, a rough value can be created by the current market demand for a particular piece. The value of your Cabbage Patch Kid will ultimately depend on the following aspects:
The condition of the doll
If the original box, birth certificate and clothing will be included
The popularity of the particular doll you have on hand
The date your Cabbage Patch Kid was manufactured
How many of that particular doll are currently listed on the market
When speaking about the value of a Cabbage Patch Kid, it is important to understand the difference between the licensed dolls and those specialty dolls. While some of the licensed, mass-produced dolls can earn an owner a nice sum of money, it is generally the specialty Cabbage Patch Dolls that are the most valued by collectors.
During the 80's, a single Cabbage Patch Doll retailed somewhere between $10 and $30 USD. Today, an exclusive CPK can be purchased directly from their homeland website for $69.00 USD.
To read more about the worth of your Cabbage Patch Kid, see our related article here.
---
Which Cabbage Patch Dolls are the Most Valuable?
One mans trash is another mans treasure is a saying that can be used when talking about Cabbage Patch Kids. While one doll may not be valuable to one collector, another may resonate with the name or style of the doll and offer a higher price at auction to ensure they are able to add that particular doll to their collection. While it is hard to say which is the most valuable Cabbage Patch Doll, generally the following dolls are of most value to collectors:
Original Coleco CPK (1983 and 1984)
Cabbage Patch Twins
Dark skinned 1983 Cabbage Patch Kids
1984 'Preemies'
Cabbage Patch Kids Produced Overseas in 1984
---
Should I Wash my Cabbage Patch Kid Prior to Listing it for Sale?
If you intend on selling your vintage Cabbage Patch Kid, ensure you do not machine wash it. If you wish to clean it up prior to taking photos to list it for sale, ensure you do so by hand and with chemical-free soap. If the doll has patches of dirt, cleaning it up prior to listing it will definitely increase the likelihood of a successful sale as long as you do not damage the doll in doing so. If you are lucky enough to have an original Cabbage Patch Kid, often known as a Little People Original, you should speak to an antique appraiser before attempting to wash it at home.
If you intend on washing your Cabbage Patch Kid:
Use gentle baby shampoo to wash the hair of the Cabbage Patch Doll.
Try a magic eraser for any pen found on the face, if the stain won't budge you'll cause more damage by scrubbing than trying to sell the doll as is
If you bath your Cabbage Patch Doll, gently squeeze out the excess water and place it outside to dry. While generally, we use direct sunlight to dry clothes, in the case of a vintage item, you may like to place it undercover to dry. For the doll to dry out completely, it may take a number of days.
---
Where Can I List my Vintage Cabbage Patch Doll for Sale?
Listing your CPK on a dedicated vintage website will increase the likelihood of you fetching your asking price. Many choose to sell their Cabbage Patch vintage dolls on Etsy or you can join the dedicated collectors club if you intend on dabbling in the buying and selling of a number of vintage CPK's. If you are looking for a quick sale of your Cabbage Patch Kid, listing it on a classifieds website or the Facebook Market place may be appropriate.
The more information and pictures you add of your Cabbage Patch Kid, the higher the chance of fetching a high price and buyer is. Including the following photos will increase the likelihood of a successful sale:
Body
Face
Hair
Stamp and Signature
Birth Certificate
Box
---
Where Can I Purchase a Cabbage Patch Kid?
If you are looking to purchase a new Cabbage Patch Kid you can look at your local Target or online at Amazon.com. In terms of seeking out a vintage Cabbage Patch Kid, many different marketplaces will have them for sale and it is really just a matter of searching for one that meets your criteria. Many sellers will list their pre-loved Cabbage Patch doll/s on:
Etsy
Facebook Marketplace
Ebay
Specialised Antique/Vintage Websites
If you are looking for the specific value of a Cabbage Patch Kid sold during the 80's and 90's, please see our Cabbage Patch Kid Appraisal Guide.
---