Hummels and Retirement
Whether it's a temporary leave, a one off limited edition or production has simply ended; Hummels go into retirement as apposed to being discontinued. This means that they may return for a special occasion under a new Hum number extension.
Here's 15 Such Hummels That Have Gone Into Retirement
1. Barnyard Hero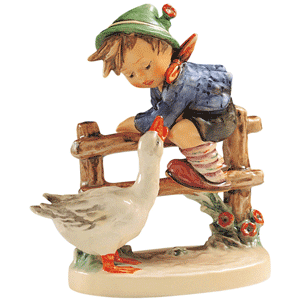 First modeled in 1948 by master sculptor Reinhold Unger.
Originaly made as 3.75″-4″ figurines.
More sizes were released in the mid 1950's, 5.50″ and 5.75″-6″.
With the larger 195/I (5.75″-6″) being put into retirement in January of 1999.
Estimated Value: Hum 195/I – $175