Coca-Cola is one the most recognizable brands in the entire world, so it's no wonder that memorabilia garners so much interest. In fact, some of the memorabilia can even be placed into the 'antique' category as the company began over a century ago with the first glass of cola being served during 1886. It is due to the age and rarity of some pieces that see their auction prices skyrocket.
In this post, Collecting Coca-Cola with Price Guides, we'll outline some of the higher-priced collectible pieces.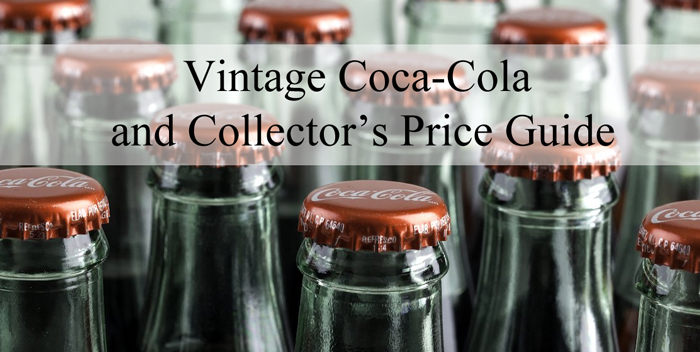 ---
History of Coca-Cola Memorabilia
According to AntiqueTrader.com, Coca-Cola collecting gained popularity in the 1900s. There were trays, calendars, signs – you name it, and Coca-Cola probably printed advertising onto it. The items are widely distributed all across the USA and around the world. This sign was listed at $1500.00 USD on eBay.
Store owners and gas stations used signs made of both metal and cardboard to advertise seasonally or for special promotions and then just discarded them. These items are now highly sought after by collectors across the globe. Newer items are not as desirable, but collectors are very interested in items that were produced from the late 1800s until the late 1960s.
---
Coca-Cola Collectibles
While there is no limit on what collectors will find value in, when speaking about Coca-Cola you may find many of the following in a keen collectors cabinet:
Limited Edition/Vintage Bottles and Cans
Calendars
Signs
Drink Trays
Cardboard Cutouts
Bottle Openers
Posters
Playing Cards
Children's Toys
Vinyl Records
Clocks
Soda Fountains/Soda Machines
Military Items
While some collectors enjoy seeking out a variety of Cola-Cola items, others prefer to have a specific collection of one type of item such as cans or bottles. Coca-Cola has released thousands of limited edition/commemorative cans as well as glass and plastic bottles over the years which make for a nice collector's item. As the company grew, the bottle in which the drink was served changed, and in 1915, the shape of the glass Coca-Cola bottles we know today was created and stuck with the company and became almost an icon. If you are a keen Coca-Cola collector, you'd be only lucky enough to get your hands on a pre-1900's glass bottle, known as a Hutchinsons bottle which can fetch more than $2000 in the right antique market. In general terms, Coca-Cola branded items that can be dated back to before 1900 are the most valuable to collectors and often have the highest auction price tags.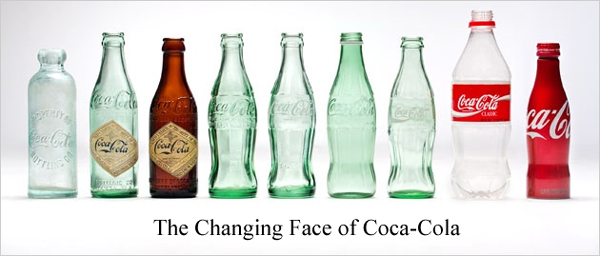 While some of the rare commemorative bottles can be dated back to the 1930s and 1940s, the 1980s was when the Coca-Cola company really began producing bottles to commemorate events or people. Coca-Cola is one of the leading sponsors for many major sporting events, and the Olympic games, so you can find many collector's items based around sport.
---
Coca-Cola Price Guides
Soda Water Advertising
This interest was mainly sparked by a book called Soda Water Advertising authored by Jim Cope in 1971. According to AntiqueTrader.com, soon afterward in the same year, a man named Shelly Goldstein started publishing yellow softcover Coca-Cola price guides with the items in full color.
The Illustrated Guide to the Collectibles of Coca-Cola
In 1972, a 352-page hard-cover book appeared written by Cecil Munsey called "The Illustrated Guide to the Collectibles of Coca-Cola."
Coca-Cola Collectibles Price Guide
In 1974, the first edition of "Coca-Cola Collectibles Price Guide" by Allan Petretti came out and has seen 12 editions in print, with the last one appearing in 2008. This text-only 645-page guide is still the quintessential reference book for Coca-Cola collectors today.
---
Collecting Coca-Cola with Price Guides Auctions
Pressed Steel Metalcraft Coca-Cola Truck With Box
Toys are always very popular with collectors and this 11″ truck in "very good to excellent" condition was no exception. It included the 10 original glass bottles and the box minus the end flaps. At Morphy Auctions in 2009, it sold for $702.00 USD.
Coca-Cola Tin Thermometer
In near-mint condition and with only a few minor surface scratches, this 9 inch 1950's thermometer was sold at Morphy Auctions in 2008 for $287.50 USD.
Coca-Cola Norman Rockwell Serving Tray
This serving tray, dated c. 1931, featuring Norman Rockwell artwork depicting a young boy enjoying a Coke measures 13-1/4 by 10-1/2 inches. The selling price was $600 USD at Morphy Auctions in 2013. Interesting to note that a near-mint version of this very tray sold at auction for $1,610 in 2010!
Coca-Cola Life-Size Cardboard Military Girl Sign
Produced during World War II, this 1940's life-size stand-up sign (24 by 64 inches) sold for $287.50 in 2008 at Morphy Auctions.
Cardboard Coca-Cola Santa Easel-Back Display
Santa Claus and Coca-Cola advertising went hand in hand and understandably, memorabilia with Santa on is desirable among collectors. This 1950's die-cut cardboard easel-backed display piece sold in 2008 for $258.75 at Morphy Auctions. It measured 36 inches wide by 48 inches tall and was considered to be in excellent condition even though it had a small closed tear at the bottom, minor marks, and light wear.
---
FURTHER READING:
You might also be interested in this related post: Antique Coca-Cola and Coronation Price Guide
---