Napco, which stands for National Potteries Corporation, was established in 1938 in Bedford, Ohio. Originally producers of decorative jars and vases for floral decor, they would become more known for their imported glassware, pottery, and ceramics from Japan. Between the mid 1950's and 60's, Napco would produce most of their more popular salt and pepper shakers, many of which are still highly sort after to this day.
Thanks to licencing deals they were able to release unique pieces modeled after popular actors and cartoon/comic characters.
1) Dean Martin & Jerry Lewis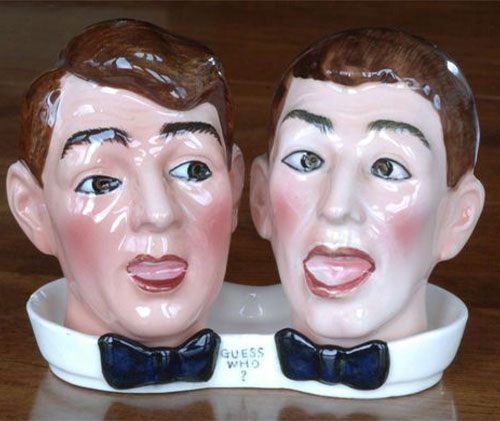 Modeled after the famous comedic duo of Dean Martin and Jerry Lewis. These particular shakers came with a housing base that was 2.25″ x 4″, and designed to resemble their collars and bow ties. The words Guess Who? were also painted on the edge between their bow ties.
Martin shaker is 3.5″ tall
Lewis is 3.25″ tall.
With all three pieces together and in good condition, these shakers can have an expected FMV of: $250.00 USD
2) Patchwork Tigers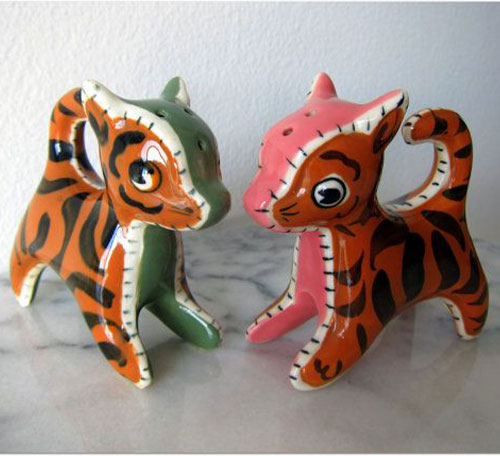 These adorable shakers were designed to look like stuff toys/plushies. A white strip with diagonal brush strokes, give the appearance of stiching that connects the sides to one of the colored centers$15.00
The Pink center strip has 2 holes
The Green center strip has 3 holes
Both pieces are approximately 2.5″
As a set, if both pieces are in good condition, they can be expected to have an estimated  FMV of: $15.00 USD
3) Flower Girls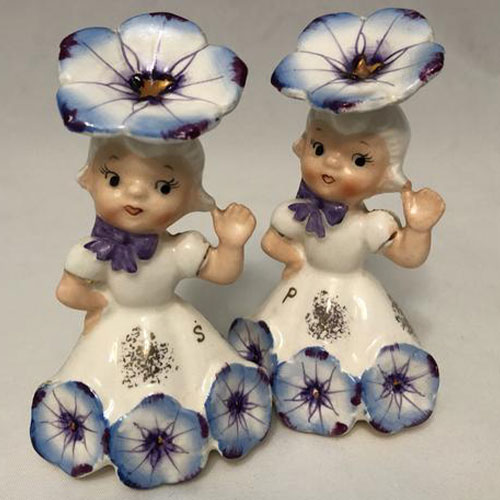 For each month of the year, Napco released a flower girl that represented that particular month's birth flower. The flowers were included in the design of the girls hats and dresses.
The average size of the shakers is 3.75″
Sets from the 1950's can be expected to have an estimated FMV of: $35.00 USD
4) Kissing Angels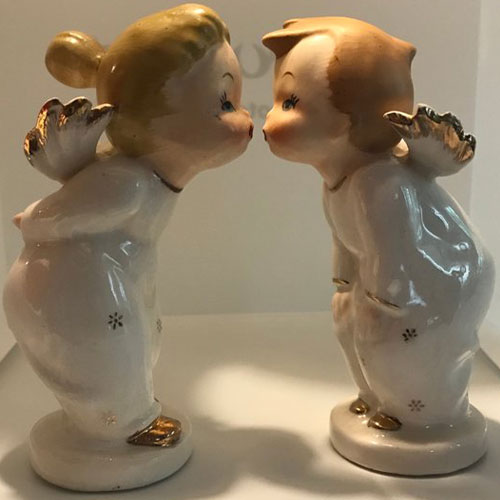 These adorable little angels leaning in for a kiss can be found in a variety of colors and patterns. The desirability of each set can vary depending on their color pallets.
These shakers are approximately 3.5″
A set with white & yellow gowns, and gold trim in good condition, can be expected to have an estimated FMV of: $15.00 USD
5) Phonograph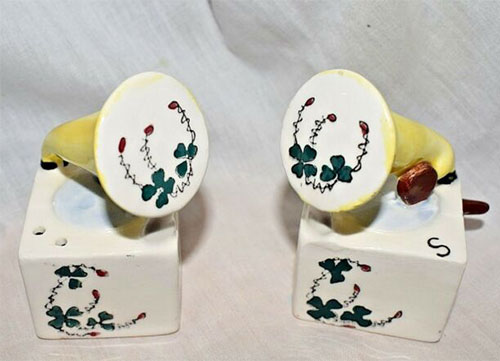 These particular shakers are modeled on phonographs. With a white Victrola, a yellow horn, and hand panted Irish shamrocks, these shakers are sort after by lovers of phonographs and salt and pepper shakers.
The shakers are approximately 3.25″
A set in good condition can be expected to have an estimated FMV of: $20.00 USD
6) Homer and Oswald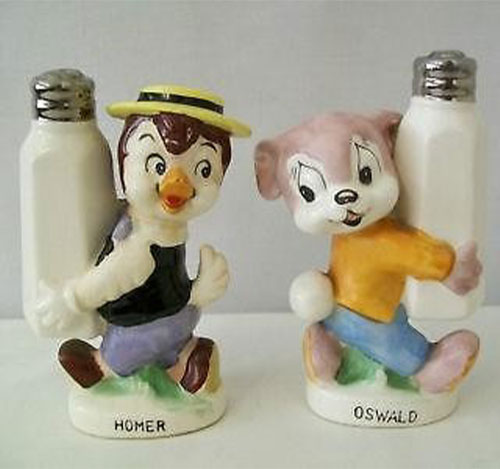 Walter Lantz Productions was an American animation studio, more known for their character Woody Woodpecker. Napco produced a series of salt and pepper shares based on the characters depicted in the Walter Lanatz comics and animations. Homer and Oswald are two such characters, and are highly sort after by fans of their cartoons and comics.
Homer Pigeon, is approximately 4″
Oswald the Lucky Rabbit, is approximately 4″
A set in good condition, can be expected to have an estimated FMV of: $130.00 USD
7) Miss Cutie Pie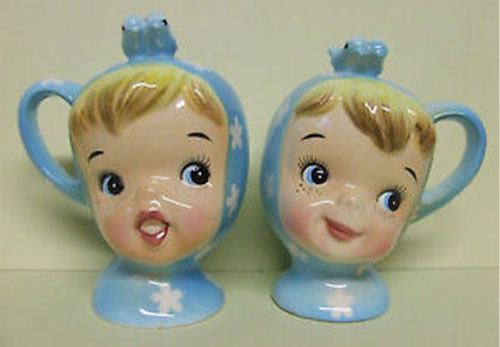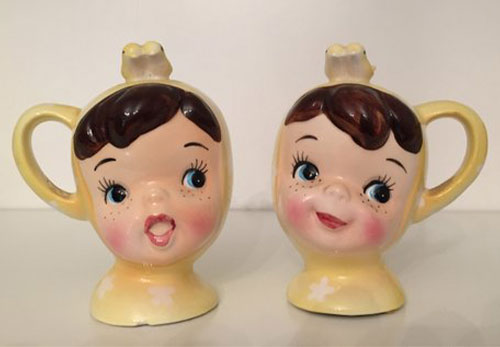 Napco released several series of Miss Cutie Pies, from shakers, to spice racks, tea sets, and even cookie jars. All designs depict a little girls face and can be found in one of three colors.
The average size of the shakers is 3.5″
Blue with blonde hair
Pink with blonde hair
Yellow with brown hair
The average FMV of a shaker in good condition is approximately: $100.00 USD
8) The Farm Girl Series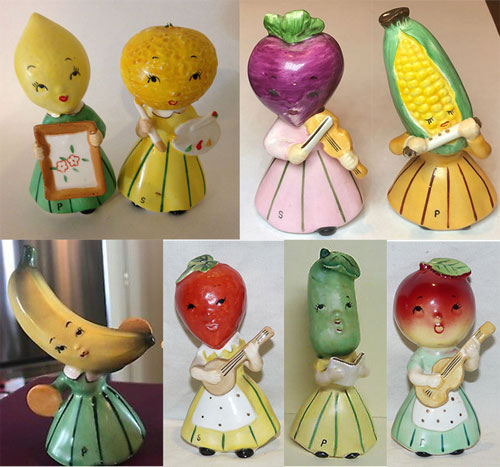 One of the largest series of  salt and pepper shakers produced by Napco. This series includes six sets (or 12 separate pieces) of anthropomorphic girls with fruits or vegetables for heads. The pieces are paired by the actions that they are depicting be it musical, painting or housework.
A correctly paired set can be expected to have an estimated FMV of: $60.00 USD