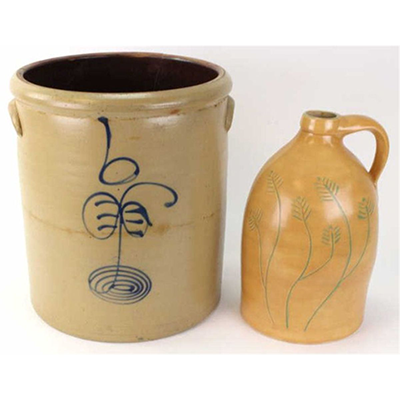 Crocks are one of the hardest produced antiques to identify. Earlier crocks were made by hand, and rarely if ever marked with an official stamp, name, symbol, or signature. Instead, potters would hand paint their works with decorations featuring designs in cobalt blue.
There are some manufacturers that stuck with specific patterns during their early years of production; others would only start marking their wares as technology and techniques improved.
Today this can make identifying a piece rather difficult for those of us who are not experts. Even then trying to read and understand these marks can be a challenge all of its own. To help alleviate some of these hassles, we will be going over some of the more popular methods that were used to mark crocks, how to find and identify them, as well as a few of the most recognizable marks.
---
How to Determine the Age of Your Crock
Aside from comparing an individual company's logo and trademarks against any that may be found on your crock. Another way is to look for signs, or the lack there of, that would indicate when the crock could have been potentially made. Here is a quick reference guide for you to use, when you are trying to narrow down the age of your crock, look for one or more of the following indicators:
If there are no markings on the bottom, either written by hand or etched into the base, then the crock could have been made prior to 1810.
If the name of the pattern used to decorate the crock can be found on the bottom of the crock, then this would mean that the crock was made after 1810.
Should the word "limited", or the abbreviation "Ltd", be present, then the crock was made after 1861.
When a country of origin (England or USA for example) has been indicated, the the crock would have been made after 1891.
Most manufactures began to phase out hand painted images after 1896, replacing them with either stamped on or impressed designs.
What to Look For
As mentioned above, up until 1810 most of the earlier crocks were hardly ever marked with either a production indicator, a manufacturer's stamp, logo, or signature. As crocks were handcrafted by skilled potters, what a lot of manufacturers and potters did, was they would finish the crocks with their own hand painted patterns and images, prior to salt-glazing their wares.

These images, while not technically company logos, were used to help identify one company from another. Companies like Red Wing Stoneware, used several different hand drawn images, from leaves, to flowers, birds and butterflies, as well a swirling patterns and lines. Should you be hoping to identify a crock by the cobalt blue painting alone, you would first need to familiarize yourself with each of the different manufactures and their chosen decorations.
What Does the Number Mean
A number can be found on most crocks. These numbers would either be painted or stamped on, or impressed into the crock. While different manufactures may have used different art styles and fonts, these numbers are not necessarily a direct indication of who made the crock. Each manufacturer did have a preference of placing or impressing the number, so yes the style of number and implementation can also be used to help further identify a crock.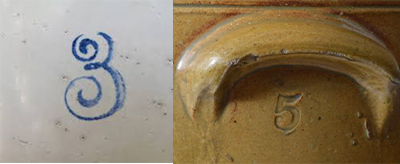 The purpose of these numbers was not to identify the crock's style or model design. They were used to indicate the size or volume of the crock. For example a 3 could mean that the crock holds 3 gallons, and a 5 could be 5 gallons, irrespective of the crock's overall shape or design. The units of measurement were not just limited to gallons however, as some crocks were also measured in quarts.
Check For Imperfections in Craftsmanship
Feel for any imperfections, handcrafted crocks are highly unlikely to be perfectly symmetrical and smooth. Look for any signs of flattening that may have occurred, while the crock was being handled prior to being placed in the kiln. Check for any little humps or indentations that may be present. Also inspect the walls of the crock, check to see if there are any differences in the walls thickness along the same height line. Every little imperfection you find, could be an indication that the crock was potentially handcrafted.
Inspect the Finish
Salt-glaze, unlike the glazes used in today's manufacturing processes, could leave little lumps and bumps. While the glaze may have left the surface relatively smooth with a shiny almost glass-like finish, small lumps could still develop as the glaze cured. These lumps may not be highly visible, but they can still be felt when touched.
Check For Company Names and Logos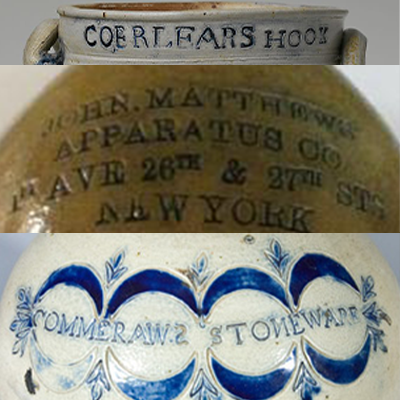 Depending on the age of the piece in question, you may be able to find the manufacturing company's name embossed or etched along the bottom of the crock. It may also be impressed into the side wall, or found on a "tag" that has been attached higher up on the crock near the rim.
Look for anything that could have been deliberately put in there, a name(s), a symbol, a signature or even just a random combination of letters or numbers.
Hard to Read Marks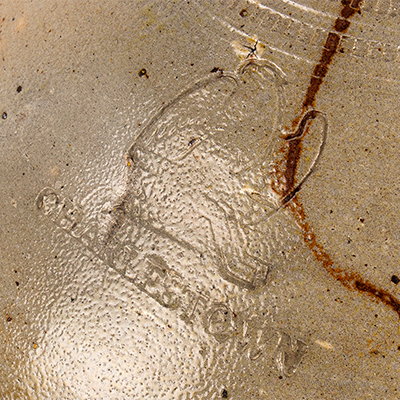 As you can see in the image above, sometimes the marks put on a crock can be hard to read, either due to wear and tear, or because the mark was not clearly made to begin with. There are a few methods you could use to try and read these marks more clearly.
Step 1) First, try using different lighting from different angles. A brighter light shone parallel to the crock's surface, may reveal more details in the shadows that this could produce. Alternatively try taking the crock outside to use the direct sunlight, or see if back lighting the mark could help reveal more details.
Step 2) If lighting alone is not enough to help you read the mark, try making a rubbing of it. We would advise that you avoid using a lead pencil, pen, or marker for this as they could cause marks or damage to your crock's surface. Instead take a piece of charcoal and rub it over a piece of paper that is being pressed against the mark. The charcoal will mark the paper where there is a solid surface beneath it, and not where there are any voids.
Research the Manufacture's History
Once you have the manufacture's name, pattern details, or any other useful information, you can narrow down your search further by cross examining what you have found against other known marks and manufacturer details.
---
Examples of Some Well Known Crock Manufacturers
From individual artists, to established companies, there are several crocks that are being sought after by many avid collectors. Here are three examples of such companies and a few of their markings to look out for.
Red Wing Stoneware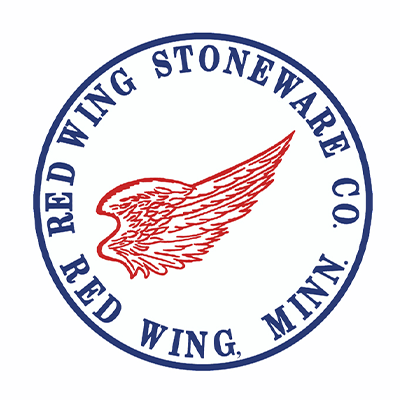 Red Wing has been around since the late 1800's, with their range of utilitarian stoneware commencing production in 1877. Prior to 1896, they used a rich tan salt-glaze and hand painted their decorations in cobalt blue paint.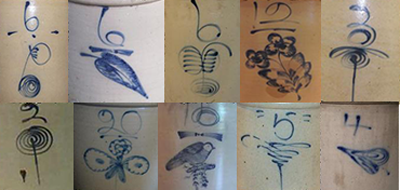 Most of their early wares have a side wall stamp containing their company details. These stamps were made using metal stamps that were impressed into the outside wall of their crocks.

They also favored using a base mold for the production of the crocks. This mold not only helped to shape the bottom of the crock, it also embossed the company's details into the base of the crock as well.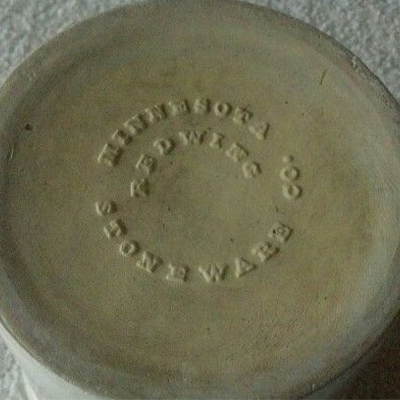 After 1896, Red Wing stopped using a salt-glaze to seal their wares, and began to use a creamy colored zinc glaze, while maintaining the use of the cobalt blue paint.
They also replaced their hand painted decorations, with stamped designs. Two of the first stamp designs they used, incorporated the Birch Leaf and the Elephant Ear designs.

In 1906, they replaced their stamp designs with their now iconic red wing logo. This logo has changed in size over the years. The first logo used was six inches in length. It was later reduced to four inches, before they settled on the later two inch design.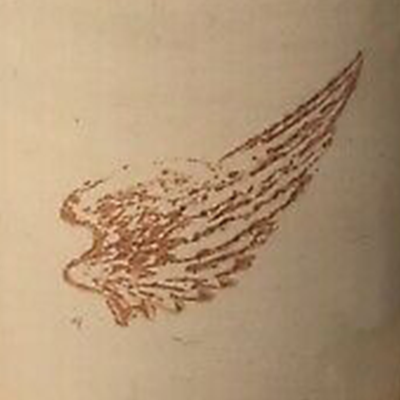 Between 1967 and 1984, the factory was closed and production of Red Wing Stoneware products was halted. That was until new owners bought the company and resumed production.
Monmouth Pottery Company/Western Stoneware Company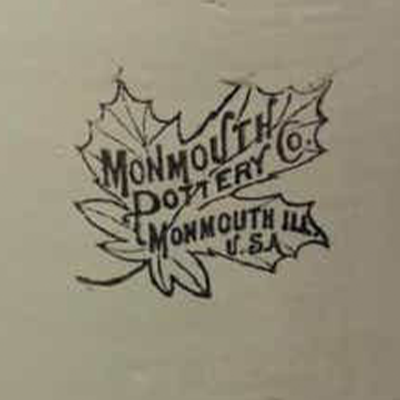 Depending on who you speak to, Monmouth Pottery and Western Stoneware are either the same company or different entities. The truth is that Monmouth Pottery was its own separate company prior to joining six other factories in 1906 to form the Western Stoneware Company.
Monmouth Pottery began production in Monmouth, Illinois in 1894. Their earlier wares were salt-glazed and Albany slip glazed, with hand drawn cobalt blue markings.
Not long after they commenced production, they soon started to use various stenciled and stamped decorations, as well as switching to a Bristol glaze. One of their more notable designs was their "two men in a crock", which literally consisted of two men standing inside a crock.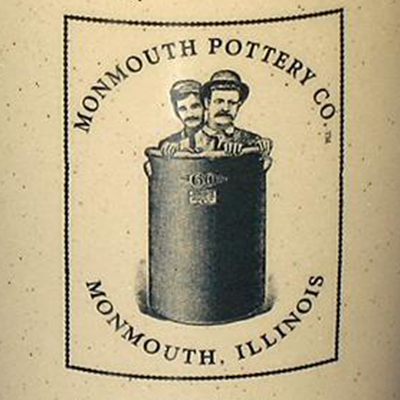 By 1902, Monmouth Pottery began to use a maple leaf logo with the words "Monmouth Pottery Co. Monmouth, Ill" in its center, as their primary stamp design.
This logo is where the dispute over the companies identities comes from. In 1906, when Monmouth Pottery joined the six other companies to form Western Stoneware Co., the same maple leaf logo was now used on all of the wares produced in each factory. The only difference was that the center now read "Western Stoneware Co." A plant # may also be found in or near the logo, with the # being a number that ranged from 1-7. This number indicated which factory produced the product in question.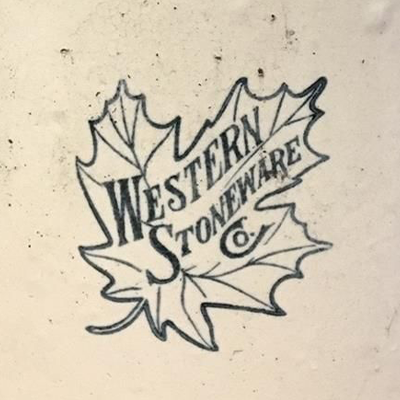 Monmouth Pottery Co. of Monmouth, Illinois – Production ceased in 1930
Weir Pottery Co. of Monmouth, Illinois – Originally ceased production in 1985
Macomb Stoneware Co. of Macomb, Illinois – Destroyed by fire in 1913
Macomb Pottery Company of Macomb, Illinois – Factory sold in 1956
Culbertson Stoneware Co. of White Hall, Illinois – Production ceased in 1916
Clinton Stoneware Co. of Clinton, Missouri – Production ceased in 1910
Fort Dodge Stoneware of Fort Dodge, Iowa – Destroyed by fire in 1913
Robinson-Ransbottom
With their abbreviated RRP that appears on their logo, they are not to be confused with Roseville Pottery. Originally opened as Ransbottom Brothers Pottery in 1901, they would later merge with Robinson Clay Products in 1920, forming the Robinson-Ransbottom Company.
Originally using a simplistic stamp with their company name and details stamped on in cobalt blue, the company would later adopt the cobalt blue crown design that they would become more known for.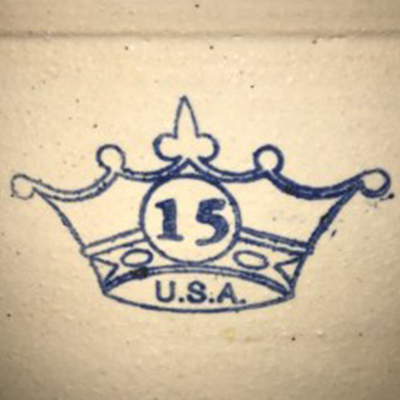 The crown may or may include the crock size indication number in a circle at the top of the crown, the letters RRP, or even "R. Ransbottom" within the crown's upper curve, "U.S.A" in the center, and "Roseville OH" along the bottom.
---
Conculsion
Should you find yourself with a crock, it just may be worth your while to have it appraised. Some crocks have been known to go for thousands of dollars, others hundreds. Who knows, maybe that crock you've been seeing get used as a plant pot or container, is actually a rare antique. If you would like more information on crocks and their value, please read our Antique Crocks Value Guide.