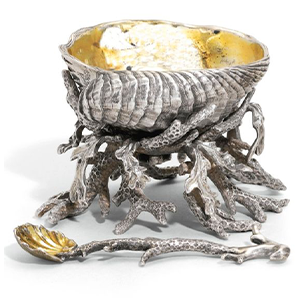 Before salt and pepper shakers became the main staple for serving salts and spices, many cultures used to serve their salts in small tableware containers known as salt cellars and open salts. From Russia, to Europe, to China, over the centuries artists and skilled craftsmen all over the world have made salt cellars out of a variety of materials. Thanks to the skills of people and businesses of yesteryear we now have access to many different styles and designs for us to collect.
Castor Sets and Service Sets
When we are talking about castor and service sets, we are not talking about 2 or 4 sets of the same salt cellars. We are actually talking about matching utensils that were used for more then just salt cellars, and were used at the dinning table.
Whole sets that still contain the original bowls, jars, bottles, and utensils, can be expected to fetch a good price. If pieces such as lids or spoons, are missing or they have been replaced; the value of the set will be reduced heavily. A missing piece can be just as bad as having a damaged piece, so if you are looking at purchasing a castor set or a service set; do your research on the whole set, and look of for reproductions, and mismatching pieces.
1) Castor Sets
Also known as condiment sets, castor sets are pieces of 3 or more matching tableware that were used to serve salts, spices, and/or oils, and can be used by one or more people. Each piece was designed to serve a unique purpose, such as a mustard pot, salt cellar, pepper shaker, gravy boat, or oil drizzle.
1) 18th century English George III Creamware Articles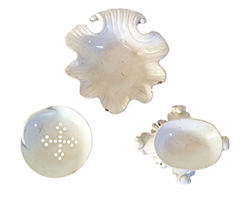 This 18th century castor set consists of a rococo salt cellar, an egg separator, and a pickle dish.
FMV: $1,285.00 USD
2) 18th Century Czech Republic Bohemian Opaline Service Set
With enameled bouquets of flowers and gilded band highlights, this set consisting of a pitcher, a coffee pot, a mustard pot, and two salt cellars, is a testament to 18th century Czech craftsmanship.
FMV: $5,000.00 USD
3) 19th Century Georgian Sterling Silver Egg Cruet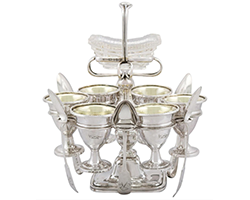 This 19th century egg cruet, was used to both carry and display enough boiled eggs for 6 people. The salt cellar was situated on the top, under the stand's floral motif accented carry handle.
FMV: $2,800.00 USD
4) 1930's Georg Jensen Pyramid Condiment Set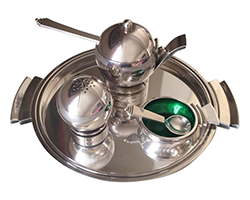 This fine condiment set that consists of a pepper shaker, mustard pot, and a salt cellar with matching spoons, was produced by the Danish, Georg Jensen company.
FMV: $4,000.00 USD
5) 1920's Charles Stuart Harris 4 Piece Georgian Style Condiment Set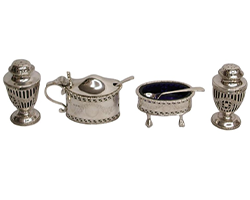 This high quality condiment set from C.S. Harris & Sons, was made of silver with bristol blue glass liners. The set includes pepper shakers, a mustard pot, and a salt cellar.
FMV: $1000.00 USD
2) Service Sets
Service Sets on the other hand are complete dinning sets that were meant to be used by more than one person at a time. They may have included cutlery, plates, eating bowls, drinking cups or glasses, or even stands and candle sticks, all of which matched or complemented the design of the salt cellars and other spice containers. As a complete service set may have included bottles and jars, along with the bowls that contained the dry ingredients, and eating or serving utensils, it is essential that you check which items actually made up the set.
1) 1885 Tiffany & Co.'s 251 piece, English King Gilded Flatware Service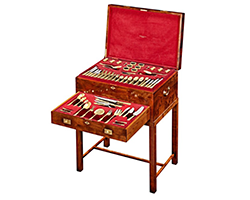 This 251 piece flatware service set consists of 18 different cutlery utensils, 14 different serving utensils, pepper shakers, and salt cellars with spoons.
FMV: $130,000.00 USD
2) Late 19th Century English Emerald Green Glass Service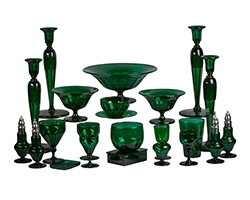 This English service set is made out of emerald green glass, has over 150 separate pieces and consists of wine glasses, sherry glasses, tumblers, water glasses, bowls, saucers, compotes, dinning plates, candlesticks, pepper shakers and salt cellars.
FMV: $55,000.00 USD
Salt Cellars
Salt cellars were not always made or sold as a single unit. Sometimes they were designed to be used with a matching spoon, lid or saucer. Other times they were also made as matching pairs, or in sets of four with the intention of them being used at a full table.
Whether you are looking at a vintage salt cellar, or an antique one, confirm if its meant to be a single unit, or part of a set, and if there is suppose to be an accompanying lid or spoon.
1) Antique Salt Cellars
1) Four, Late 19th Century Vermeil Salt Cellars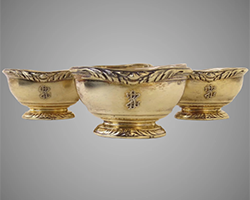 These gold on silver (Vermeil) salt cellars are from the late 1800's to early 1920's. They have shaped inner liners that are made of glass, a footed base, and a rasied company logo of Gustave Keller, Keller Frères.
FMV: $980.00 USD
2) Pair of Early 19th Century, Hallmarked Silver Salt Cellars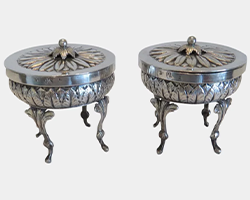 Standing on four tall elegant supports, these salt cellars are adorned with a chased leaf and floral design, and a flower final lid. Made of silver 800, these early 19th century works will make an excellent addition to any salt cellars and silver enthusiast's collection.
FMV: $930.00 USD
3) Pair of 18th century Chinese Porcelain Salt Cellars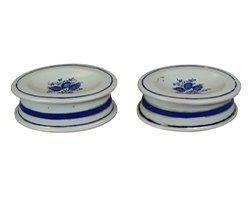 This pair of 18th century Chinese porcelain salt cellars, are white with cobalt blue paintings of sprig flowers, with cobalt blue bands, and gold highlights.
FMV: $550.00 USD
4) Early 18th Century French Porcelain Salt Cellar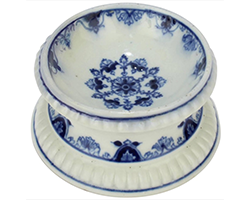 This early 18th century soft-paste porcelain salt cellar from Saint Cloud, France, has a beautiful cobalt blue Rayonnant design over its creaming white undertone.
FMV: $3,800.00 USD
5) Box of Four French Sterling Silver 18-Karat Gold Salt Cellars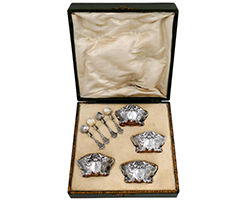 These gorgious French, 18-Karat vermeil (gold over silver) salt cellars are from the late 19th century, and are detailed with swan wings and a lion head. A complete set, will include 4 salt cellars, 4 spoons and a fitted storage box.
FMV: $1,000.00 USD
2) Vintage Salt Cellars
1) Pair of Venetian Art Glass Swan Salt Cellars.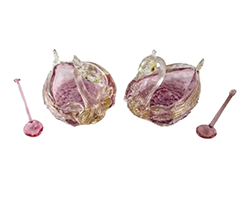 This pair of vintage 1940's gold flecked Venetian art glass swan salt cellars, are an excellent addition for those who like to collect Venetian art glass, salt cellars, or bird paraphernalia.
FMV: $300.00 USD
2) 1960's Volmer Bahner Sterling Silver Salt Cellars & Pepper Shakers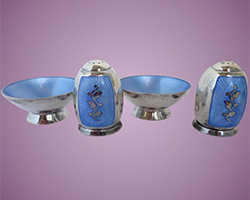 This set of 1960's vintage salt cellars and pepper shakers, are made of sterling silver, with blue enamel. They were designed by Danish artist Volmar Bahner, who was known for his wooden busts and enamel designs.
FMV: $115.00 USD
Final Thoughts
Like with so many other collectible items out there, when it comes to salt cellars, you never know what you have on hand. If you were to find an individual salt cellar, or a serving set, or castor set that includes a salt cellar; have them appraised. Who knows you might actually surprise yourself and find that you have something worth a tidy little sum.
You maybe interested to read the Napco Salt and Pepper Shaker Value Guide.